The failed deals could be the much-needed wake-up call for the M&A space.
Illustration: Uttam Ghosh/Rediff.com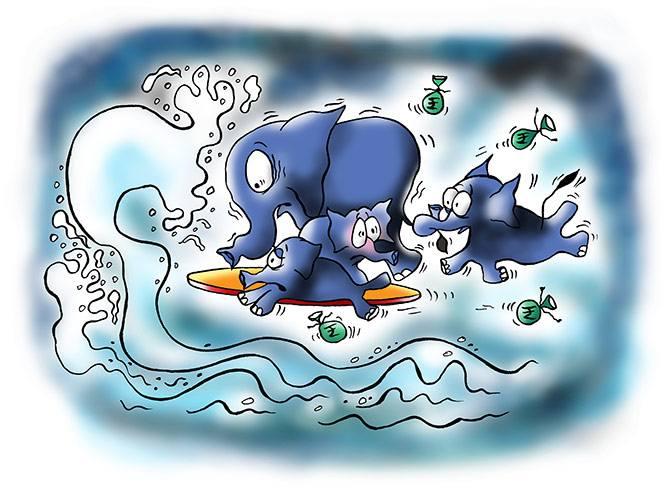 It has not been a great year for big-ticket deals.
Some have been stuck in negotiations for months, some have been called off and some were called off after being stuck for months.
Let us look at a couple of big deals, the news flow around this, who gained and who lost.
In early June 2016, the share price of Max Financial Services was hovering around Rs 350.
This is the parent company of Max Life Insurance. Soon after Max Life and its larger rival, HDFC Life Insurance, said on June 17, 2016, that they were exploring a possible merger, the share prices of Max Financial started climbing.
They hit Rs 500 by June 20 and Rs 550 the next week. By early September, the shares touched Rs 600, before cooling to settle around Rs 550.
In May, they had hit a high of Rs 675.
Some investors have been smart. On February 21, GS Mace Holdings, a shareholder which had reportedly supported the promoters in a resolution to approve a Rs 850-crore (Rs 8.5 billion) no-compete fee in the deal, sold a chunk of its holdings.
GS Mace and a vehicle acting in concert, Xenok, have sold further shares, the latest shareholding pattern reveals.
At the time the deal was announced, GS Mace and Xenok together held some 15.46 per cent in Max Financial.
As of June 30, 2017, Xenok's stake was down to 4.14 per cent.
GS Mace did not figure in the list of public shareholders holding over one per cent.
The holding structure of these funds and their ultimate beneficiaries are not clear.
Though concerns about the deal structure were expressed by the Insurance Regulatory and Development Authority of India (Irdai) as early as November, speculation about alternative structures lingered until Max Financial officially called off the deal last week.
In another long-running deal story of fund raising in Fortis Healthcare, Business Standard recently reported how the promoters' stake had fallen by close to 25 per cent in six months, much of it through open market sales, when newspapers have been reporting about various people being in "a race" to invest in the company.
These non-deals and the real exits that coincided with these make us wonder if the quality of public disclosures is good enough.
It also raises questions on anonymous sourcing in reporting of deals in the financial media, forward-looking analysis based on such reports and their impact on share prices.
In an interview to The Hindu last month, Matthew Winkler, co-founder and editor-in-chief emeritus, Bloomberg News, explained how anonymously sourced reports pushed German car maker Daimler into acquiring Chrysler in 1998.
This eventually turned out to be a disaster for the former's shareholders.
These reports had projected the deal as one among equals and as an example of "one of the great deal of our times".
"Had the reporting of it at the time been transparent, if people who did not have a vested interest had been able to talk about that deal, the initial reporting would have been very different from what it was.
"It was a giant commercial, if you will, for the investment bankers doing the deal, who got paid a lot of money for the deal," Winkler said.
Investment bankers apart, anonymous sources quoted by media could be people close to the promoters, company executives, funds or even public relations people.
It is difficult to tell what their motives are.
The failed deals could be the much-needed wake-up call.