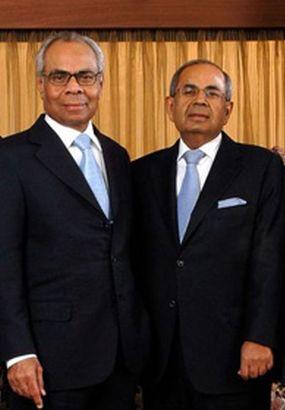 Britain's richest family, the Hinduja brothers, have called on British Prime Minister David Cameron to invest in India's ambitious Bangalore-Mumbai Economic Corridor (BMEC) to be the best link between the two countries.
Speaking about the ongoing high-profile India visit of two of Britain's senior-most ministers – Foreign Secretary William Hague and Chancellor George Osborne – Gopichand and Srichand Hinduja believe that an investment in the mega infrastructure project would undoubtedly boost Britain's economic ties with India.
Please click here for the Complete Coverage of Budget 2014 -15
"The prime minister has visited two or three times which is a good sign of his intentions, and his new counterpart has a great vision to build India," Gopichand Hinduja told the 'Telegraph' newspaper.
The Mumbai-Bangalore industrial corridor could be the spark for a new economic partnership which could finally deliver the returns Cameron has hoped for, he said.
"By deputing his Chancellor and Foreign Secretary gives a further good signal the Mumbai-Bangalore Industrial Corridor would be the best link between the countries but they have to take a financial package with them," he said.
"Even if Britain does not have funding like Japan but London is a financial centre – they can at least create a fund. They should go with something concrete... Mr (Narendra) Modi is looking for foreign funding and our interest is that India-UK trade and industry grows," he added.
He believes Britain's health, infrastructure and project consultancy sectors could be big beneficiaries, but urged the government to use the local knowledge of the British-Indian business community to increase trading links.
Some of the world's wealthiest Indian billionaires, such steel magnate Lakshmi Mittal and mining and metals tycoon Anil Agarwal, are based in London.
The Indian government hopes to generate more than $50 billion in investment and 2.5 million jobs with the project and Britain is working with it on feasibility studies.
The corridor will connect India's financial and IT capitals with Pune, Belgaum, Dharwad and other growing towns in between. According to G P Hinduja, whose family was confirmed as the richest in Britain in this year's 'Sunday Times' rich list with an estimated fortune of 12 billion pounds, Britain needs to focus on one major project as a showcase for what its industries can do in India.
"We're very optimistic. Britain has resources and two million Indians who know much better how to do business in India," said the co-chairman of the Hinduja Group which has interests across automotive, banking and power.
Please click here for the Complete Coverage of Budget 2014 -15