Banks offering a higher rate on savings bank deposits have seen robust growth in the past year but the momentum might get slower as interest rates turn more benign.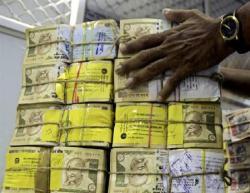 Following deregulation of the savings bank interest rate in October last year, only a handful of private sector lenders had raised it, to 5.5-7 per cent from the 4 per cent mandated earlier - YES Bank, Kotak Mahindra Bank, IndusInd Bank, Ratnakar Bank.

No large private Banks or any public sector lenders had raised the rate following the deregulation, continuing to offer 4 per cent.

For the September quarter, the savings deposits of IndusInd Bank grew 70 per cent to Rs 5,312 crore (Rs 53.12 billion), Kotak Mahindra Bank's grew 66 per cent to Rs 5,926 crore (Rs 59.26 billion) and YES Bank recorded 351.3 per cent growth to Rs 3,700 crore (Rs 37 billion).

Sumant Kathpalia, head of consumer banking at IndusInd Bank, said it hoped to maintain a year-on-year growth of 30-35 per cent in savings deposits and a planned increase in the number of branches would help.

However, Kathpalia also agreed if term deposit rates started falling, they would not offer a higher interest rate on savings bank account deposits. At that time, the savings bank rates would get re-aligned with term deposit rates.

"We will see the monetary policy reviews of the RBI (Reserve Bank) and take a decision on savings bank rates," he said.

Bankers said the base effect might also make growth of such deposits a bit subdued.

"We expect the growth momentum in savings bank deposits to continue. But the same percentage growth may not continue," said K V S Manian, president-consumer banking, Kotak Mahindra Bank. This means the growth will continue in absolute terms.

With the interest rate cycle turning, large banks expect pressure on them to cut savings bank deposit rates to protect their net interest margins (NIMs).

"There is a very distinct possibility that banks may cut the savings bank interest rates. The fact is that if the whole interest rates structure comes down and you don't cut the savings bank interest rate, then your margins will get impacted," Aditya Puri, managing director, HDFC Bank, had said earlier.

But those who had raised these say a fall in rates might not be a reality in the near term.

"We think YES Bank has a unique selling proposition at the level of 7 per cent for balances above Rs 100,000 and also 6 per cent for balances below Rs 100,000, simply because the average fixed deposit (FD) cost of our bank at present is 9 per cent. As long as FDs are costing 9 per cent, 7 per cent is very attractive," recently said Rana Kapoor, managing director, YES Bank.

Similarly, Manian said the bank was not, at present, thinking of reducing the interest rates on savings deposits.
ONE YEAR OF DEREGULATION
Savings deposit rates raised by select banks after Reserve Bank of India's decision to deregulate the rate on October 25, 2011, and the growth recorded by them
Bank
Savings
deposit
rates (%)
Minimum
balance

 


above (Rs)
Savings account
balance as on
Sept 30, '12 (Rs cr)
 YoY growth (%)
YES Bank*
7

 

1,00,000
3,700
351
Kotak Mahindra Bank**
6
1,00,000
5,926
66
IndusInd Bank***
6
1,00,000
5,312
70
*6% for balance below Rs 1,00,000; **5.5% for balance up to Rs 1,00,000; ***5.5% for balance up to Rs 1,00,000
Top banks like State Bank of India, ICICI Bank and HDFC Bank offer 4% on savings deposits