S Premkumar has joined as the Group CEO -- Healthcare Services, Apollo Hospitals, one of the country's largest hospital chain.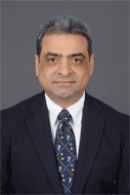 Prior to joining Apollo, Premkumar has been associated with $6 billion HCL Group for over 28 years.  He was instrumental in ushering in multiple eras in the IT industry and helped in the internal transformation and global reach of HCL.

As the Senior Corporate Officer and Global President for HCL Technologies, he was leading the Financial services, Healthcare verticals along with strategic leadership of customer proposition innovation, alliances and partnerships, as well as, global expansion.

Premkumar's appointment comes at a time, when Apollo Hospitals has earmarked around Rs 1,860 crore (Rs 18.6 billion), of which Rs 225 crore (Rs 2.25 billion) already invested. The proposed investments will take up the number of beds owned by Apollo to 8500 by 2017 from the current 5888 and number of owned hospitals to 49 from 37.

"The healthcare industry is at an interesting inflection point in terms of opportunity, challenges and transformation and thus ushering in this change and addressing this growth is not just exciting but also provides me with a great opportunity to get closer
to society at large," said Premkumar.
The hospital chain is also betting big on technology, earlier the Hospital's Founder and Vice Chairman Pratap C Reddy said that he was planning to buy four robots from a US-based company for $2.2 million each. These robots are to be used for surgeries and other treatments.
The other technology initiative was Health Superhiway, in association with IBM which will act as back-office connecting doctors, hospitals and pharmacies across the country from both government and private sector through applications like telemedicine, mobile software and wireless networks even in the remote villages in India.
Telemedicine too has been a major successful initiative in the Group, which has put its patients on the IT radar to all the extent, which will be operated by Premkumar now.
Commenting on his shift from an IT Major to a Healthcare Major, Premkumar said, the group has made significant investment and is a mature user of technology across the board , especially in clinical service through state of art clinical technologies like cyber knife , robotic surgery and others.
Union Budget 2012-13: Complete coverage