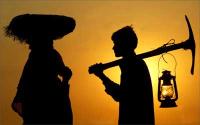 Two people, including a labour union leader and vice-chairman of a private company, were killed as a labour dispute in a ceramic company in Yanam enclave of Puducherry flared up into large scale violence.
The dead include Regency Ceramic vice-chairman K P Chandrashekhar, who was beaten up by the agitating workers and labour union leader Murli Mohan.
Yanam, off East Godavari district of Andhra Pradesh, was rocked by the violence this morning as the police used force against the agitating employees and workers of the Regency Ceramics.
A labour union leader Murli Mohan, who was picked up by the police outside the factory, later died in the hospital.
Alleging that the police had subjected him to third degree torture, workers went on rampage attacking the Regency Ceramic office, its educational institutions, school buses and lorries.
The labourers also held a demonstration in front of the police station outside with the dead body of Murli Mohan.
To disperse the mob the police opened fire injuring 11 workers, four of them seriously.
Later the workers attack the residence of company vice chairman Chandrashekhar and beat him up holding him responsible for the death of their leader. Chandrashekhar was rushed to the Apollo Hospital in Kakinada where he succumbed.
Miscreants and criminal gangs also took advantage of the situation and went on a looting spree in the town.
As the situation threatened to get out of hand, the Andhra Pradesh government rushed special police battalion to Yanam to help the local authorities.

The picturesque town was looking like a battle field and situation was tense.

Section 144 was imposed and authorities have disconnected the cable networks fearing that the scenes of violence will further worsen the situation.

The dispute between the workers and the management of the company was continuing for last three months and the workers had gone on a relay hunger strike for the last ten days demanding increase in the wages.

The trouble started when the striking workers tried to stop the other employees from attending the work and the police intervened to disperse the protestors.
Click here for Rediff Realtime News!