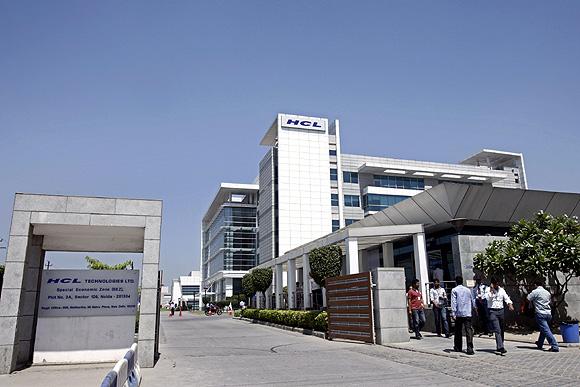 India's fourth largest software services firm HCL Technologies on Thursday reported a 53.7 per cent jump in its consolidated net profit to Rs 1,834 crore (Rs 18.34 billion) for the fourth quarter ended June 30, 2014.
The company had posted a net profit of Rs 1,193 crore (Rs 11.93 billion) in the year-ago period, it said in a statement.
Its consolidated revenues rose 20.7 per cent to Rs 8,424 crore (Rs 84.24 billion) in the April-June quarter as against Rs 6,980 crore (Rs 69.80 billion) in the same period last year.
The firm follows July-June as the fiscal year. Commenting on the performance, HCL Technologies CEO Anant Gupta said: "HCL has posted a robust financial year performance, which emphatically demonstrates the continued success and relevance of our overall strategy."
In FY14, the company crossed the $5 billion revenue milestone and further evolved the key building blocks to deliver next generation propositions to customers, he added.
Gupta further said that backed by the solid performance, HCL remains confident in its ability to continue delivering industry leading growth.
For the full year ended June 30, 2014, its net profit moved up 58.3 per cent to Rs 6,369 crore (Rs 63.69 billion) as against Rs 4,023 crore (Rs 40.23 billion) in the previous fiscal. Revenues rose 27.8 per cent to Rs 32,917 crore (Rs 329.17 billion) during the year as compared with Rs 25,758 crore (Rs 257.58 billion) in FY 2012-13.
In US dollar terms, HCL Technologies reported a 44.2 per cent rise in net profit for the June quarter to $305.4 million as against $211.7 million in the corresponding period a year earlier. Its revenues rose 14.6 per cent to $1.4 billion from $1.22 billion.
"The superior operating performance has been accompanied by efficient working capital management including DSO (days sales outstanding), high conversion of profits into cash and return on equity at historic high of 36 per cent," HCL Technologies CFO Anil Chanana said.
HCL's cash and cash equivalents, investments and borrowings at the end of June 2014 stood at Rs 1,020.6 crore (Rs 10.20 billion). Its total headcount recorded at 91,691. HCL said it has signed over 50 transformational engagements with more than USD 5-billion Total Contract Value (TCV) during FY 2013-14.
"These engagements were well distributed across all service lines and geographies. In verticals, the wins were led by Gen 2.0 propositions in momentum markets of financial services and manufacturing," it added.
The firm said it added one client in $100-million plus (deal size) category, four clients in the over $50-million and 16 clients in more than $20 million segment.
Americas accounted for 57 per cent of the company's revenues, followed by Europe at 30.5 per cent and Rest of World (RoW) at 12.5 per cent. The company announced dividend of Rs 12 per share, its 46th consecutive quarter of dividend payout.
Shares of the company were trading at Rs 1564.90, down 2.03 per cent from its previous close on the BSE.