Mid-cap information technology (IT) stocks dominate the list of companies that are trading significantly above their 200-DMA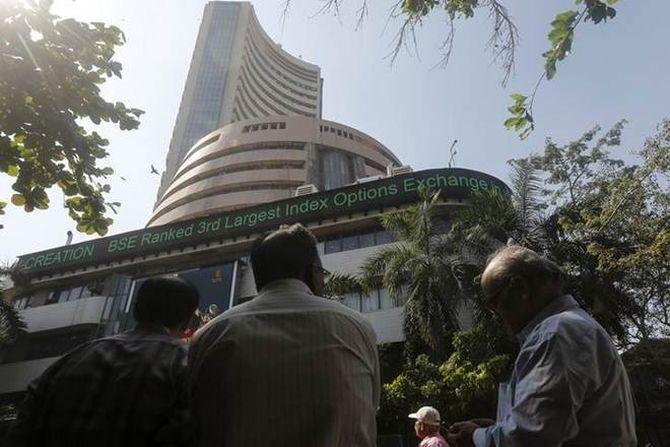 Half of Sensex and BSE 500 stocks are once again trading above their 200-day moving average (DMA) following last month's broad-based rally in the market.
This is a sharp reversal of trend compared to March, when three-fourths of the BSE 500 stocks had dipped below their long-term averages.
In April, the benchmark Sensex rallied 6.7 per cent, while the BSE Midcap, BSE Smallcap and BSE 500 indices surged 6.6 per cent, 8.3 per cent and 6.5 per cent, respectively.
Experts say the rebound was triggered by a better-than-expected start to the March quarter earnings season, easing of geopolitical concerns and normal forecasts for the monsoon.
Mid-cap information technology (IT) stocks dominate the list of companies that are trading significantly above their 200-DMA.
Indiabulls Ventures, currently trading 83 per cent above its 200-DMA, tops the chart.
IT players such as Mindtree, KPIT Technologies and Sonata Software also feature among the top performing stocks.
On the other hand, Vakrangee and PC Jewellers–plagued by corporate governance issues - are currently trading more than 60 per cent below their 200-DMA.
According to market participants, concerns on both the global and domestic fronts have started to show signs of easing.
A recovery in corporate earnings seems to be on the way as the net revenue of India Inc for the quarter ending March touched a 12-quarter high.
Analysts are also predicting the non-performing assets (NPA) cycle for banks to peak in the next one or two quarters.
The monsoon forecast also remains strong, indicating a possible revival in rural consumption.
On the global front, things are looking positive. The stalemate in the Korean peninsula is headed towards resolution as both North Korea and South Korea have started negotiations to find an amicable solution.
Concerns about a possible trade war between China and the US have also eased.
The latest recovery in the markets comes after a near 10 per cent correction during February and March.
Hardening bond yields in the US markets had triggered the correction in early February.
Other domestic factors such as the Rs 130-billion fraud at Punjab National Bank (PNB) and macro-economic weakness increased the selling pressure on stocks.
The sharp downturn in the market was felt across the board, with the broader markets registering even sharper declines.
During the beginning of April, half of the BSE 500 stocks had fallen more than 25 per cent.
The number has declined to 186 now.
Also, 376 stocks of the BSE 500 were trading below their 200-DMA against 229 currently.
Photograph: Shailesh Andrade/Reuters