'We are only talking about 65,000 H1B visas a year, it is not going to go down drastically.'
'If the number reduces and when you spread that reduction across all the top IT services companies, the impact will be marginal.'
Ayan Pramanik reports from Bengaluru.
Illustration: Uttam Ghosh/Rediff.com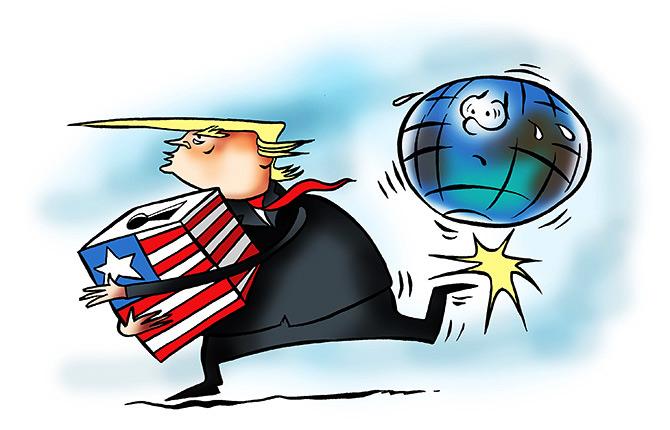 The US government's increased scrutiny of H1B visa applications would have a bigger impact on skilled professionals than on IT services firms, says Timothy J Zanni, US technology sector leader, KPMG.
After becoming US President in January, Donald J Trump is making efforts to implement his election promise of restricting immigrants into the country.
Since then, the US administration has pushed a few items of legislation seeking to increase the minimum wages for H1B visa holders and has backed immigration of highly skilled workers 'to protect the jobs of Americans'. Trump has issued multiple executive orders to beef up the H1B visa issuance process.
A large chunk of such visas is issued to professionals working with Indian IT companies. Many individuals who filed applications for H1B visas this April received requests for further evidence -- RFE -- or information to prove that they were taking up jobs at higher salaries in the US.
Law firms witnessed a surge in queries for further justification from the US Citizenship and Immigration Services -- USCIS -- against entry-level (Level 1) petitions based on wages.
"From the business side, we are only talking about 65,000 visas a year, it is not going to go down drastically. If the number reduces and when you spread that reduction across all the top IT services companies, it will be marginal," says Zanni.
"I have talked to executives of the companies in India and the US and they can manage with a marginal reduction and they are planning for it. The impact is only on the individual," he added.
There was stricter verification of many petitions this time, unlike in previous years, said people who facilitate H1B visa processing for Indian IT and other companies.
Business growth will sort out these problems, Zanni says, and executives he spoke to were clear that they "would figure out a way".
Companies such as Infosys, Wipro, TCS and others have stepped up local hiring in the US, their largest software services export market.
While Infosys has committed to hiring 10,000 people in the US in a couple of years, Wipro said it had increased the mix of local citizens in the US workforce and more than half of its employees there now were local.
US-based technology companies were "very vocal" in their opposition to any change in the regulations (for visas) as this would affect how they brought their employees to the US on projects too, Zanni points out.
The software services industry has seen disruption with newer technologies such as artificial intelligence, machine learning coming in. This is forcing technology companies and educational institutions in the US to train people in the right skills.
"I don't think this is any different from the industrial revolution when you had the labour market moving faster than the creation of talent. With all the innovation, do we have enough people for artificial intelligence? No," says Zanni when asked whether the US had adequate talent to meet the demand of technology companies.
"So what are businesses going to do? They are going to go to college campuses, they are going to demand that colleges change curriculums to create more programmes in AI."