President Pranab Mukherjee expressed hope that the country's growth rate would return to the eight per cent level in next couple of years.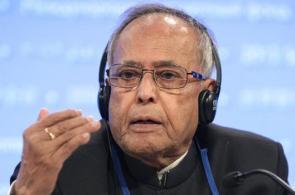 "I am confident that with the measures being taken and through our collective effort, it would be possible to return to the path of higher GDP growth of around eight per cent in next couple of years," Mukherjee said here in his address at the 45th convocation of the UtkalUniversity.

Stating that the economic growth rate has shown positive results, he said, average annual growth during the last 10 years was 7.9 per cent though it has decelerated to five per cent in 2012-13.

"We have to make the economic growth work for the betterment of our people especially those at the bottom of the socio-economic pyramid," he added.

The President in his address emphasised on innovation for economic progress.

"Our economic progress will depend on our capability to innovate. India lags behind the major economies in terms of innovation. Though Indians comprise one-sixth of the world population, only one in 50 patent applications in the world are filed in India. We do not lack the capability to innovate but we lack the systems to encourage and generate innovation,"
said the President.
Mukherjee also expressed concern on the rising incidents of atrocities on women.
"The recent increase in cases of brutal assault on women and child rape has shaken the collective consciousness of the nation. These unfortunate incidents underscore the urgency for our society to pause and introspect at the erosion of values and our repeated failure to ensure safety and security of our women and children," he said.
Pointing out that such criminal depravity is a threat to the civilised functioning of any society, he stressed on identifying the causes and finding solutions.
The society must ensure safety, dignity and respect for women, he said.
The President exhorted that it is time for the nation to reset its moral compass.
"I call up on those who educate and nurture the minds of the youth and wield the moral authority in the society to set this process in motion," he asserted.
Mukherjee rued that no Indian university, in an international survey of universities, has figured in the top 200 list in the world. Some may have doubts over the methodology of the rating organisations but the fact remains that we are not there, he maintained.
Odisha Governor S C Jamir and chief minister Naveen Patnaik also spoke on the occasion.