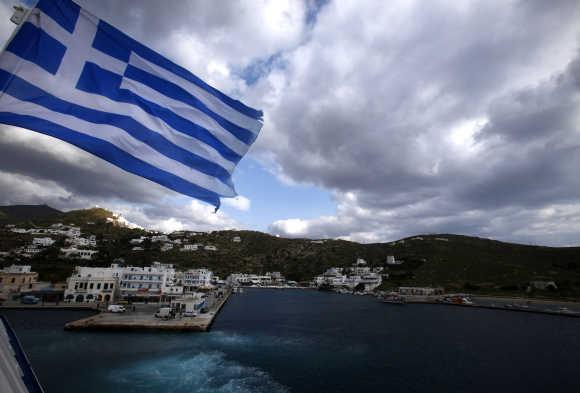 Domestic currency emerges fifth best performer among major global ones

Although Greece is debt crisis adversely impacted global currencies last month, India's rupee has emerged as one of the best performers due to improved domestic fundamentals.

In June, the rupee emerged as the fifth best performer against the dollar compared with a basket of other global currencies.
The rupee appreciated by 0.27 per cent in June against the dollar and the appreciation continued even on Wednesday when it closed at 63.61, compared with Tuesday's close of 63.65 per dollar.

"The contributing factors towards it is a lower current account deficit (CAD), inflation under check, we have high foreign exchange reserves, there is constant intervention by the Reserve Bank of India (RBI) which shows they are willing to commit to the stability of the rupee, and there is no major panic in the market, through the Greece issue is a lingering concern," said Anindya Banerjee, currency analyst, Kotak Securities.

Data released in March showed India's CAD rose to $8.2 billion (1.6 per cent of gross domestic product) for the financial year's third quarter, ended December 2014, from $4.2 billion (0.9 per cent of GDP) for October-December 2013. The CAD narrowed in the third quarter when compared to that in the second quarter (July-September 2014), at $10.1 billion (two per cent of GDP).
Over the financial year's first nine months, ended December 2014, the CAD narrowed to $26.2 billion from $31.1 billion in April-December 2013.

Though currency dealers continue to see the possibility of the rupee touching the 64-mark again, the Greece issue has so far not had a major impact on India. "Today, the rupee appreciated due to dollar sale by custodian banks.
"Some dollar buying was there by state-run banks, possibly on behalf of RBI. For the rest of the week, the rupee may trade in the range of 63.50 to 64 per dollar," said Sandeep Gonsalves, forex consultant and dealer, Mecklai & Mecklai.

RBI has been intervening in the forex market in a bid to build reserves.
The country's foreign exchange reserves rose to yet another all-time high of $355.46 billion for the week ending June 19 recording a week-on-week rise of $ 1.17 billion, shows data released last Friday.

Last week RBI Governor Raghuram Rajan said in Stockholm the Indian economy would see through any impact of the Greece crisis. According to Rajan, one factor helping India was its stronger forex reserves.

Meanwhile, retail inflation edged up to 5.01 per cent in May compared with 4.87 per cent in April.
RBI has set an inflation target of less than six per cent by January 2016 and four per cent (+/-2) by the end of the two years starting 2016-17.
Image: The island of Ios is seen from the Blue Star Paros vessel as it departs from the island during a nine-hour trip to the Greek islands of Paros, Naxos, Ios and Santorini, in the Aegean Sea. Photograph: Yannis Behrakis/Reuters