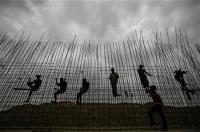 In a crucial breakthrough, the Greater Noida Industrial Development Authority reached a settlement with farmers in Patwari village on Saturday.
The farmers will receive a higher compensation of Rs. 550 per sq metre (over and above the Rs. 850 per sq metre paid earlier) and 8 per cent developed land, two per cent more than what was promised to them earlier.
This agreement could become the basis for settlement with farmers in 10 other villages in Greater Noida that constitute an affordable housing hub called Noida Extension, where 250,000 apartments are being built at Rs. 50,000 crore (Rs. 500 billion).
There was uncertainty after the courts annulled land acquisition in a couple of these villages.
As per the deal, farmers of Patwari will withdraw the case from the Allahabad High Court that had quashed land acquisition in the area on July 19.
The court, after a review petition, had referred the cases to larger bench as interests of several stakeholders were involved.
The Greater Noida Authority will now file the details of the agreement with farmers in the Allahabad High Court, which will hear this case on August 17.
On July 26, the court had directed the Authority and the farmers to find an out-of-court settlement in the land acquisition row by August 12.
As part of the deal, the compensation for Patwari's farmers has been raised by Rs. 550 per sq m to Rs. 1,400 per sq mt, from Rs. 850 per sq mt earlier.
The developed area has also been raised to 8 per cent from 6 per cent of the land acquired. Landless labourers will get plots of 40 metres within three months while farmers' children will be entitle to 10 per cent reservation in schools and colleges
in Greater Noida.
Balraj Yadav, a farmer leader in Patwari, said farmers are happy with the settlement.
''We are stuck. Ten storey buildings have come up on our land, there are sewage lines running underground. The land is no longer suitable for farming,'' he said.
''Besides, 85 per cent of the farmers have taken compensation and spent the money. They are not in a position to refund money; so we had find a middle path,'' Yadav said.
More than higher compensation, the upside for farmers comes from 2 per cent more developed land they will get now.
Besides, the authority has agreed to allot plots (250-450 m) on 12 mt wide roads, which will fetch a better price.
If a farmer had sold 30,000 sq mt of land in Patwari, he was earlier entitled to 6 per cent or 1800 sq mt of developed land.
As per on Saturday's deal, he will get 8 per cent or 2400 sq m of developed land on 12-mt roads like in Noida.
Farmers feel this land should fetch them Rs. 15,000 per metre as the price in neighbouring Roja Yakubpur village on 7.5-mt road varies between Rs. 7,000 and 10,000 per sq mt.
The Allahabad HC judgement quashing the acquisition of 589 hectares in Patwari had affected 11 realty projects and 50,000 apartments.
Anil Sharma, CMD, Amrapali Group, said the settlement opens a door for resolving the crisis in Noida Extension.
While the existing customers are protected on the price, new buyers may have to fork out more if the cost of higher compensation is passed onto the builders by the authority.
Rupesh Verma, a farmer leader from Greater Noida, said: ''We are not happy with the settlement. We wanted to use the opportunity to bring in few policy changes, like becoming the lease owner and leasing the land to builders, which would have secured our future.''