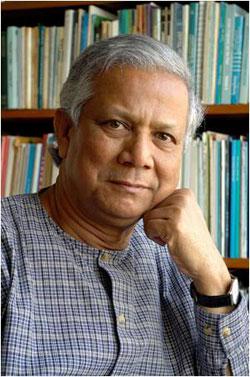 A Bangladeshi commission has proposed the government takeover or split the Nobel-award-winning Grameen Bank into 19 parts, sparking criticism with several analysts fearing it to be a systematic move to destroy the pioneering micro lending agency.
The government commission has released a working paper on restructuring Grameen Bank, founded by Nobel Laureate Muhammad Yunus.
The paper says Grameen should be broken up into 19 separate organisations to decentralise the bank's operations and management. It also suggested Grameen's legal status be amended with the government owning at least 51 per cent.
"The government takeover of a sound financial institution owned by 8.4 million poor women would be a case of an extreme abuse of government power," said Yunus, who was forced to quit the Grameen Bank two years ago after a protracted court battle following dispute with the government.
Nobel laureate Yunus said the Grameen Bank Inquiry Commission proposal was "unworkable and deserved no consideration" while economists and civil society figures joined him in blasting the move.
"The government has taken the step to destroy the (Grameen) bank. It is totally a political decision," a newspaper today quoted former finance secretary and adviser to the past caretaker government Akbar Ali Khan.
Development analyst Hossain Zillur Rahman harshly criticised the move saying it was led by a "political vindictiveness" and adding that the commission was formed and many other measures about Grameen Bank were taken out of vindictiveness.
The Daily Star wrote the commission recommendations was "culmination of a well-orchestrated attempt to take control of an organisation that has flourished into a success story over the last three decades".
The Star commented that the move came despite Grameen's success earned it the Nobel Peace Prize along with its founder Yunus in 2006 and its model was being replicated not only in the developing world, but also in developed economies.
The government, meanwhile, called a workshop on July 2 to discuss the commission's recommendations where Yunus too was invited to present his views while finance minister Abul Maal Abdul Muhith would join as the key discussant.
Founded as a statutory body under a law offering ownership to its client members Grameen lent more than $11 billion to millions of people -- mainly women -- to help them gain financial independence severing poverty cycles.
Bangladesh in August last year issued an ordinance changing the operational structure of the Grameen Bank, apparently tightening the government regulation on the specialised financial institution and defying an appeal by Yunus and his international allies.