Industrialist Ganga Prasad Birla died on Friday night at 87 after a prolonged illness. His Rs 5,000-crore business included companies like Hindustan Motors, Orient Paper and Industries, Hyderabad Industries, Avtec and Nigeria Engineering Works.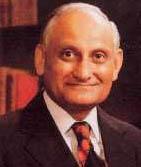 He was the son of Braj Mohan Birla and the father of Chandra Kant Birla. GP Birla was the oldest Birla around, after his cousin Basant Kumar Birla who is now 90. He was born in Benares in 1922, and is survived by his wife Nirmala, son CK Birla, and daughter Lekha Poddar.
Under GP Birla, the group made a foray into project management when it got the three million-tonne Ajakouta steel project from the government of Nigeria, which was a shambles then. That led to other projects like the modernisation of the integrated steel plants of the state-owned Steel Authority of India Ltd at Durgapur and Rourkela.
Though he had passed the baton to his son, C K Birla, he kept a keen eye on all the businesses, sources close to the family said.
GP Birla was also known for creating educational and medical research institutions, and setting up charitable trusts and institutions. These include the Birla Institute of Technology at Ranchi, Birla Institute of Scientific Research, Birla Archaeological and Cultural Research Institute, Calcutta Medical Research Institute (Calcutta Hospital), BM Birla Heart Research Centre, Modern High School for Girls and Rukmani Birla High School. He built temples in Hyderabad, Jaipur and Bhopal, and supported the renovation of places of historical, architectural and religious importance. The government awarded him the Padma Bhushan in 2006.
Though the origins of the Birla family — one of the foremost business houses in the country — trace back to the tiny village of Pilani in the Rajasthan desert, where Shiv Narayan Birla began to trade in cotton in 1857, the family built a strong connection with Kolkata when Shiv Narayan Birla's son, Baldeo Das Birla, moved to the city in late nineteenth century. GP Birla lived in Kolkata all his life.