The 2G telecom spectrum auction netted the government just Rs 9,407 crore (Rs 94.7 billion) but shareholders of telecom companies are a happy bunch. In just four trading sessions since November 12, the market capitalisation of the top four telcos, Bharti Airtel, Idea Cellular, Reliance Communications (RCom) and Tata Tele (TTML), has risen by Rs 11,286 crore (Rs 112.86 billion).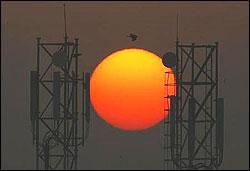 The Sensex, meanwhile, lost nearly two per cent in the same period.
Telecom stocks have been underperformers this year. Except Idea Cellular, all telecom stocks are trading below their price on December 31 last year. However, the current spurt has helped them close the gap.
Shareholders of the four companies gained as much as 7.6 per cent. The bulk of the gains were made by Bharti Airtel shareholders, as the stock price went up by 9.4 per cent to add a little over Rs 9,800 crore (Rs 98 billion) to the company's market value since Monday. RCom rose 7.2 per cent, adding Rs 750 crore (Rs 7.5 billion); Idea Cellular gained two per cent and TTML 1.7 per cent in the same period.'
Analysts expect more gains for shareholders, going forward. "The worst seems to be behind the sector now and we can expect better valuations," says a telecom analyst at a leading brokerage in Mumbai.
According to experts, the auction may forever change the price-value equation in the sector and create positive long-term implications.
"Operators learnt their lessons from the 3G auction and didn't bid aggressively for spectrum this time. This may force the government to relent on spectrum pricing and cut the reserve price in the next round. That will have a huge beneficial impact on the sector's financial health in the long term," says Devang Mehta, vice-president and head, equity sales, at Anand Rathi Financial Services.
"The bid amounts indicate operators will not have to spend a penny in the next two years for spectrum. This is great news for equity investors and that's what the market is celebrating," says Sivarama Krishnan, executive director (risk advisory services), PricewaterhouseCoopers India.
For others, it signals the beginning of the end of regulatory uncertainty in the sector. "This clears the fog of regulatory uncertainty that was clouding investment decisions by various participants," says Ajay Bodke, head, investment strategy & advisory, Prabhudas Lilladher.
Telecom was a key contributor to the India growth story in the last decade. From FY01 to FY12, telecom operators accounted for 12 per cent of all incremental capital expenditure by BSE-500 companies. In the last 12 years, India's top six listed telecom operators cumulatively invested $ 50 billion in network expansion.
According to experts, the figure could be double, if one includes RCom (whose comparable numbers were not available for 12 years) and unlisted firms such as BSNL, Vodafone, Aircel, Tata Teleservices and Uninor. A change in the industry sentiment could kick-start the next investment cycle.
Photograph: B Mathur/Reuters