The manufacturing sector now contributes about 16-17 per cent to the GDP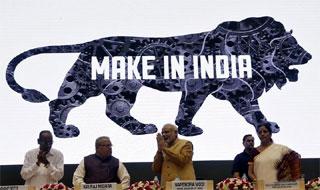 Government and industry leaders will collectively make presentations on December 29 before Prime Minister Narendra Modi on sector-specific strategies to push manufacturing as part of the 'Make in India' programme.
The high profile day-long workshop will be attended by Union Cabinet Ministers, including Arun Jaitley and Nirmala Sitharaman, and industry leaders from sectors like oil & gas, automobile, aviation, PSU chiefs and state government representatives.
A total of 18 sessions will be held on sectors, including chemicals and petrochemicals, oil and gas, capital goods, pharmaceutical, food processing, tourism and media, aviation, automobile, aerospace and defence and skill development.
A separate session will be held with state chief secretaries and principal industry secretaries on improving ease of doing business.
"In the sector-specific sessions, we will discuss all the challenges extensively and prepare the action plan for one year (short-term) as well as for three years (long-term).
Secretary concerned will then present that plan to the Prime Minister and will commit to implement that," a senior official said.
Sector specific issues like land acquisition, taxation, inverted duty structure, recommendations for the forthcoming Budget and inter-ministerial differences would be discussed during the sessions, the official said, adding "some suggestions are also expected to figure in the Budget".
Sector-wise status reports, which were prepared by consulting firms including Bain & Company, Boston Consulting Group and Accenture, would be discussed.
In September, Modi had launched the 'Make in India' campaign to attract foreign investors and make the country a global manufacturing hub. As many as 25 sectors have been identified as focus segments under the programme.
The manufacturing sector now contributes about 16-17 per cent to the GDP and the government aims to increase its share to 25 per cent by 2022.
A poor show by manufacturing sector has dragged the overall industrial production, which contracted by 4.2 per cent in October, the sharpest decline in at least two years.
Manufacturing output, which constitutes over 75 per cent of the IIP index, contracted by 7.6 per cent in October, compared to a dip of 1.3 per cent in the same month a year ago.
For April-October, the sector saw an output growth of 0.7 per cent, compared to a contraction 0.1 per cent in the year-ago period.
Overall, 16 of the 22 industry groups in manufacturing showed negative growth in October.