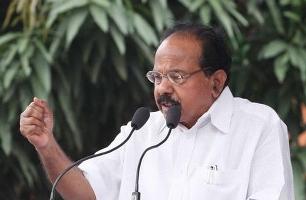 Oil Minister M Veerappa Moily on Tuesday said the Solicitor General or Attorney General of India would examine the EC's order asking the government to defer till elections the doubling of natural gas prices by companies like Reliance Industries Limited.

"We are examining it (EC order), and because the matter is also in the Supreme Court of India, we would like our Solicitor General or Attorney General to examine it. I don't want to comment further on the issue," he told PTI in Bengaluru.

EC on Monday asked the government to defer notifying doubling of price of the fuel produced by companies such as Reliance Industries till general elections are completed.

Moily said the government has already notified the price.

The deferment of price hike will have a large implication on investment climate, particularly in oil sector, he said.

Moily said it would also result in subsidy going up if production is hit.

"Unless there is production, there is no gas.

"If there is no gas, import will be more than 15 to 18 dollars (per barrel).

That means to say -- we have to live with that kind of an import and there will be higher price. "That means the subsidy will go up," he said.

He said the government has taken the decision based on the Rangarajan Committee recommendations with due process and diligence.

Moily said curbing production and exploration was not in the interest of the nation and would make India a "slave" to other countries.

"India has no representation in OPEC, which determines the price.

"We cannot bargain on price.

"Whatever price they will dictate, we wll have to purchase. "The import price will end up $18 to $19 (per barrel). "Ultimately, this is disastrous," he said.

He said his plan was to make the country self-sufficient in oil production.

A new pricing regime was to be implemented from next month for all private and public sector natural gas producers under which rates were to rise to $8.3 next month from current $4.2 per million British thermal units.

The decision was opposed by the Aam Aadmi Party which had alleged that it was taken to favour RIL.

AAP leader Arvind Kejriwal, who had during his brief stint as Delhi Chief Minister ordered the filing of a first information report against Moily and RIL head Mukesh Ambani for allegedly conspiring to double gas prices, had asked EC not to approve the revision in rates.
Image: M Veerappa Moily; Photograph, courtesy: www.moily.org