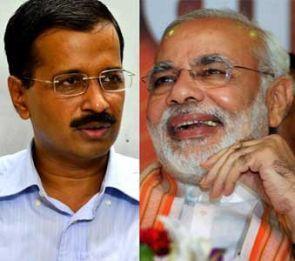 Aam Aadmi Party leader and former Delhi chief minister Arvind Kejriwal on Tuesday hit the campaign trail in the temple town of Varanasi.
In what is being dubbed as one of the big battles of the 2014 election, Kejriwal will determine by a referendum whether he should take on Narendra Modi, who will contest the Lok Sabha polls from Varanasi on a Bharatiya Janata Party ticket.
While many feel Arvind Kejriwal is virtually set to declare his candidature against Modi, the referendum was a mere formality.
Not the one to shy away from a tough political flight, Kejriwal has said that it was time to defeat both the Congress and the BJP. He had earlier said that he was ready to take on Modi.
The BJP has fielded Modi for the Lok Sabha polls from Varanasi as well as Vadodara.
The AAP leader, who unseated the Congress from power in Delhi after 17 years, has said he is willing to contest against Modi, but would file papers only after seeking the opinion of the people.
AAP volunteers had created a 'Chalo Benaras' hashtag on microblogging site Twitter to garner support for their top leader.
Do you, our dear readers, think Arvind Kejriwal should take on the BJP's prime ministerial candidate from Varanasi? Or do you believe Kejrwal is fighting a losing battle?
Let us know what you think! Share your opinions and comments on the message board below.
Image: AAP leader Arvind Kejriwal and BJP prime ministerial candidate Narendra Modi
Follow the latest election updates on Twitter: @RediffElections