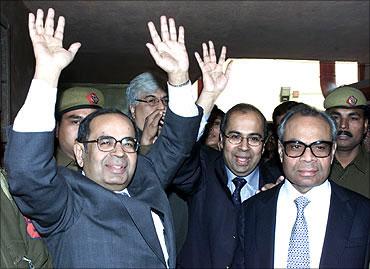 Lauding Prime Minister Narendra Modi for creating a sense of optimism in the country, NRI industrialist Prakash Hinduja said the Indian diaspora now wants faster implementation of reform measures and the government should consider a separate ministry for NRIs.
Hinduja further said that the government should consider fast-tracking the schemes meant for NRIs, who can make huge investments in the country, and the government should help them do business in any part of the country.
"You have to have a special ministry for NRIs where proper implementation programmes should be made," the Hinduja Group (Europe) Chairman said here.
Hinduja, who is here to participate in the Pravasi Bharatiya Diwas and Vibrant Gujarat summits, further said that Gujarat saw a big development when Modi was its Chief Minister and the the observers around the world are looking for the changes he would bring in as Prime Minister of the country.
He said that there are some concerns in implementation front, given the euphoria created in the past and said the government should make more efforts to execute all its reforms and policies at a faster pace.
With regard to the NRI business community, he said that the government should "monitor NRIs as to what are their projects and what are their investment strategies... On the basis that you can see huge investment coming in."
"I have attended a lot of conferences, programmes and meetings with many NRIs worldwide..
.I have seen that there is a big change in their views about the country. The motivation and the encouragement which the Prime Minister has given to all of them is incredible," Hinduja told reporters.
He, however, added that there is no parallel in the history of a Prime Minster who has been able to make so much of change in the people's mindset.
"My concern is that how could this...when a storm or tsunami comes, this is like in the same manner when they (NRI investors) are going to come in they expect there will be a programme which could be executed rapidly. That rapid change can only happen when there are proper new programmes, reforms, open windows for NRIs," Hinduja said.
"NRIs can't waste time because they have their life and businesses abroad and they can't come here and wait for six months or one year and run after government schemes and projects. They want the project to take off at the earliest. So, the government should plan fast-track schemes for them," he said.