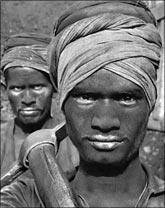 The Union home ministry wants state governments to take proactive action against illegal mining as it has become a national security threat.
In a recent meeting with the states, the home ministry said that windfall profits from such mining of minerals and sand were being used by the mafia to aid extremist elements.
A top government source said the Indian Bureau of Mines had identified 17 states where such illegal mining was going on. The worst affected were Bellary-Hospet in Karnataka, Obullapuram, Kurnool and Cuddapah in Andhra Pradesh, Keonjhar and Barbil in Orissa, and Jod and West Singhbhum in Jharkhand.
The Centre warned the states that the situation was worsening and that it was not averse to intervening in the matter if they were unable to take action themselves.
The states are expected to submit a definite action plan when the issue again comes up for discussion between the Centre and the states on December 26.
The action plan should include mechanisms to monitor prices of minerals, identify endemic areas that were prone to illegal mining to ensure monitoring through multidisciplinary teams and strengthen the inspection agencies, the government source said. Besides, he added, the plan should spell out how to use the satellite machinery to keep track of the areas already under mining and identify new areas.
On their part, the states argued that the Centre should consider a slab system of royalty, as the present method was not sufficient to curb windfall gains by miners and check rampant illegal mining.
Besides, the states said the present procedures of obtaining environment and forest clearances led to delays. They suggested the Centre set up a special force on the lines of the Central Industrial Security Force (CISF) for the mining areas or allow them to use central forces in the difficult terrain.
The states appealed to the Centre to introduce the new draft of Mines and Minerals  (Development & Regulation) Act  as the existing one did not adequately address all the issues of the sector.