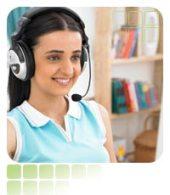 In the wake of a threat to national security, the Intelligence Bureau has asked the Department of Telecommunication to block all Internet telephony services until a system is put in place to track such calls, according to a report in
The Economic Times.
Compared to foreign countries where every call can be tapped, India does not have the mechanism to track domestic and international internet telephony calls.

"The government will have no choice, it will be forced block VoIP. Terrorists have been using this medium since they know that we do not have the technology to track calls. The government should not have waited so long. This is a good move and it will also make the ISPs compliant to law," Vijay Mukhi, cyber security expert, told rediff.com on Tuesday.
The VoIP solutions also allow making domestic and overseas calls without getting monitored. The DoT has been asked to find a solution to this problem as it is a grave threat to national security, says the report.
"We cannot obviously stop all the players as there are thousands of them but it can help to a large extent by blocking all the main players," Mukhi explains.
Interestingly, the Telecom Regulatory Authority of India (Trai) lifted restrictions on Internet service providers (ISPs) to offer Internet telephony services in August 2008.

"It is envisaged that customers will ultimately benefit from cost-effective and innovative Internet telephony services. These recommendations will put Indian telecom sector in tune with global trends. The grey market tendencies shall be curtailed," Trai had said. The telecom regulator had also asked all ISPs to install 'lawful interception' equipments.

Surveillance mechanisms are still not in place. "This does require huge investment, but I don't think it is lack of funds that is stopping the exercise. It is just that the government has not yet started working towards this," Mukhi says.
However, the Intelligence Bureau has said that without a caller line identification, the origin of the caller or the country from which the call is originated cannot be found.
If this IB diktat comes into effect, it will be a huge blow to consumers using Internet telephony for cheaper calls. This would also hit the revenues of companies like Mahanaga Telecom Nigam Ltd. There are about 34 ISPs in India offering Internet telephony services in India, the report adds.

"This will hit consumers very badly. Not only are the calls cheaper, the sound quality is also much better. The government could work out an agreement with the main players in this regard. Consumers should not suffer as a result of government's inaction," says Mukhi.
The Department of Telecom had issued orders in February this year to block Internet telephony services being offered by 39 foreign firms in India since Indian laws permit only licensed operators to offer Internet telephony services.
Currently, subscribers can make calls from one computer to another computer; from a computer and a mobile phone or a fixed line phone, and from a mobile phone or a fixed line phone to any part of the world at cheaper rates.