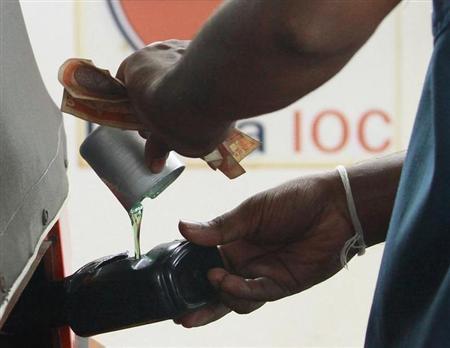 Government has shortlisted about a dozen PSUs including IOC, National Fertilizers, MMTC, Hindustan Copper and ITDC for stake sale to achieve the current fiscal's disinvestment target of Rs 41,000 crore (Rs 410 billion).
The Department of Disinvestment plans to divest 5-15 per cent government stake in these state-owned companies, and has already floated a draft Cabinet note to seek nod for stake sales in certain PSUs, sources said.
As per the roadmap, 10 per cent stake each would be diluted in Engineers India Ltd (EIL), NALCO, NMDC and Indian Oil Corporation (IOC).
As much as 15 per cent stake would be up for sale in National Fertilizers Ltd (NFL), Hindustan Copper Ltd (HCL), India Tourism and Development Corp (ITDC), State Trading Corp (STC) and MMTC, sources added.
Besides, the government plans to dilute 5 per cent stake each in BHEL, NTPC, Rashtriya Chemicals and Fertilizers (RCF) and Dredging Corporation (DCIL), the sources said.
They added that the stake sales are scheduled for current fiscal and DoD has already secured Cabinet approvals for stake sale BHEL, NMDC and NALCO.
Although a 5 per cent stake sale in ONGC has also been approved by the CCEA, but a delay in fuel subsidy sharing roadmap could delay the Rs 14,000 crore (Rs 140 billion) stake sale in Oil and Natural Gas Corp (ONGC), sources said.
A stake sale in IOC would garner about Rs 9,000 crore (Rs 90 billion), while that of EIL Rs 700 crore (Rs 7 billion), NALCO Rs 1,200 crore (Rs 12 billion) and NMDC (Rs 5,300 crore or Rs 53 billion) as per the current market prices.
Besides, BHEL could garner around Rs 2,900 crore, NTPC Rs 6,000 crore, RCF (Rs 190 crore) and DCIL (Rs 60 crore).
Besides, stake sales in HCL could fetch about Rs 1,000 crore (Rs 10 billion), while that in tourism company ITDC could garner about Rs 169 crore (Rs 1.69 billion).
Further, MMTC stake sale could garner about Rs 800 crore, NFL (Rs 240 crore) and STC (Rs 140 crore).
The government has already sold 5 per cent stake in Rural Electrification Corporation (REC) last week to raise about Rs 1,550 crore (Rs 15.50 billion) -- the first disinvestment in the current fiscal.
The stake sale received robust interest from retail investors.
Although it is not clear which PSU would hit the markets next as per the disinvestment roadmap, sources said that the Finance Ministry is watching the markets closely and as and when it feels proper the share sales.
The government has budgeted to raise Rs 41,000 crore through PSU stake sale in the current fiscal and another Rs 28,500 crore through strategic stake sales.