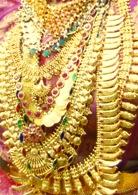 In the wake of rising global prices of precious metals, the government on Thursday hiked import tariff value of gold to $531 per 10 grams, while the value was kept unchanged at $899 per kg for silver imports.
The tariff value, which is released fortnightly, is the base price on which the customs duty is determined to prevent under-invoicing. During May, the tariff value of gold stood at $507 per 10 grams.
The Central Board of Excise and Customs (CBEC) issued a notification on Thursday in this regard, an official release said.
After crude oil, gold is the most imported commodity in India in terms of value.
In January, the government had changed the duty structure on gold and silver from specific to value-linked, making precious metals more expensive.
At present, import duty on gold and silver stands at 4 per cent and 6 per cent of the value, respectively.
India, the world's biggest consumer of gold, imported 967 tonnes of gold in 2011.
At present, global prices of gold are ruling firm at $1620 per ounce (28.34 grams) in London.