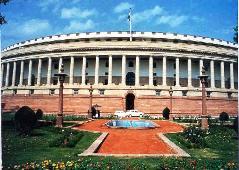 The government on Tuesday initiated the process of disinvestment in NTPC by inviting bids from merchant bankers for 9.5 per cent stake sale in the power major, which may fetch the exchequer over Rs 12,000 crore (Rs 120 billion).

"Proposals are invited from reputed merchant bankers with experience and expertise in public offerings or OFS in capital markets to act as merchant bankers and to advise the government in the process," the Department of Disinvestment said in a public notice.

The merchant bankers are required to submit their application by December 14.

Last week the Cabinet had approved sale of 9.5 per cent stake in the country's largest power producer NTPC through the offer for sale route through stock exchanges that could fetch over Rs 12,000 crore (Rs 120 billion).

The government currently holds 84.50 per cent stake in NTPC and post disinvestment Government's holding would come down to 75 per cent.

The paid up equity capital of the company, as on March 31 is Rs 8,245.46 crore (Rs 82.45 billion).

Shares of NTPC were trading at Rs 158.55, down 0.41
per cent on the BSE. At the current market price, NTPC disinvestment could fetch around Rs 12,400 crore (Rs 124 billion) to the exchequer.
The disinvestment would also help NTPC to comply with the minimum public shareholding norms.
NTPC became a listed company in 2004.
Thereafter in 2009, government further diluted its stake in the power producer.
The government has set a target of mopping up Rs 30,000 crore (Rs 300 billion) through disinvestment in the current fiscal.
It has already raised over Rs 800 crore (Rs 8 billion) through stake sale in Hindustan Copper.
In the first stake sale of the current fiscal, the government sold 5.58 per cent stake in HCL for about Rs 808 crore (Rs 8.08 billion) at an average price of Rs 156.56 apiece, with bulk of the bids coming from LIC and PSU banks.
The government has already initiated the process of disinvestment of 10 per cent of its stake in NMDC and 9.3 per cent in MMTC.
Besides, the Cabinet has okayed disinvestment of 12.1 per cent in Nalco.