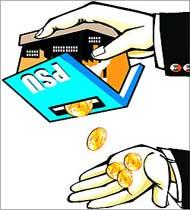 The new government plans to sell a 10 per cent stake in Hindustan Aeronautics Ltd this fiscal ending March, Finance Minister Arun Jaitley said on Friday.

Jaitley also said the government would sell stakes in state-run companies such as Steel Authority of India Ltd and Rashtriya Ispat Nigam Ltd to bolster its finances.

The new government plans a public listing of Rashtriya Ispat Nigam Ltd as well.

It also intends to sell a 5 per cent stake in Steel Authority of India Ltd.

The new government
has already approved the sale of its residual stakes in Hindustan Zinc Ltd and Bharat Aluminium Co.
The government owns 29.5 per cent of Hindustan Zinc and 49 per cent stake of BALCO.
Majority shares of both the companies are owned by London-listed Vedanta Resources Plc.
In October, mining conglomerate Vedanta won the backing of its shareholders to offer up to $3.48 billion to buy the government's stakes in these companies.
Prime Minister Narendra Modi, who won a landslide election victory in May largely on a promise of economic growth, is expected to speed up divestments to bolster revenue generation.