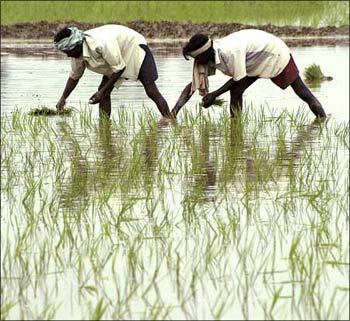 Amid vociferous protests by the Opposition on the plight of farmers due to lack of storage for record production of foodgrains, government on Monday admitted a mismatch between procurement and storage and said efforts were on to ease pressure on godowns by encouraging exports and providing foodgrain to MNREGA workers as part of wages.

Making a brief statement on the farmers' plight in the Lok Sabha during Zero Hour, Finance Minister Pranab Mukherjee admitted a 'mismatch' as godowns lacked storage space when there had been a "record production" of rice and wheat.

He said that earlier 30-40 per cent of the total production of foodgrain used to be purchased by the government and the rest taken care of by the market.

But in the last 2-3 years, due to high minimum support price, procurement had become the primary responsibility of central and state governments and their agencies, he said.

Referring to the shortage of jute bags to store foodgrain, he said to augment their availability, the government was trying to import them, even as two lakh MT of storage capacity has been added.

While plastic bags had been banned, the government was following international norms for packaging of sugar, wheat and rice stored in biodegradable jute bags, he said.

Besides providing several tax and other concessions to create more storage capacity, exports were being encouraged and the Rural Development Ministry was working on providing foodgrain to MNREGA workers as part of their wages.

State governments have to be involved in this, he said.

Mukherjee's remarks followed a 10-minute adjournment of Lok Sabha proceedings after members
of National Democratic Alliance, Left, Rashtriya Janata Dal and Samajwadi Party created a furore over farmers plight, saying foodgrains were rotting and getting destroyed in rains due to lack of storage at a time of record wheat and rice output.
The Finance Minister said he would give out more details on the issue during his reply to the Finance Bill in the Lower House on Tuesday.
During the adjournment, leaders like L K Advani, Sharad Yadav and Rewati Raman Singh were seen discussing the issue with Mukherjee and Gandhi.
Earlier, Sharad Yadav (JD-U) raised the issue and slammed the government for doing little for the sake of farmers.
Pointing at Congress President Sonia Gandhi and Mukherjee, who were present in the House, he said government should leave aside other issues and concentrate on resolving burning problems faced by the farmers on a war-footing.
He claimed that while on one hand wheat was lying in the open, there were people who had no food to eat.
There was also no facility for farmers to store foodgrains and let them rot by keeping them in the open.
NDA and other opposition members were on their feet and accused the government of failing to solve the problem.
Leader of the Opposition Sushma Swaraj raised the issue of poor supply of jute bags to Madhya Pradesh and said despite a number of steps taken by the state government to procure farmers' produce, non-availability of jute bags was creating problems.
She said despite assurance by the Food Minister, the state has not been provided with jute bags till date.
Several members from NDA, Left parties, SP, Bahujan Samaj Party and Rashtriya Janata Dal protested the stand of the government, leading to brief adjournment of the House.