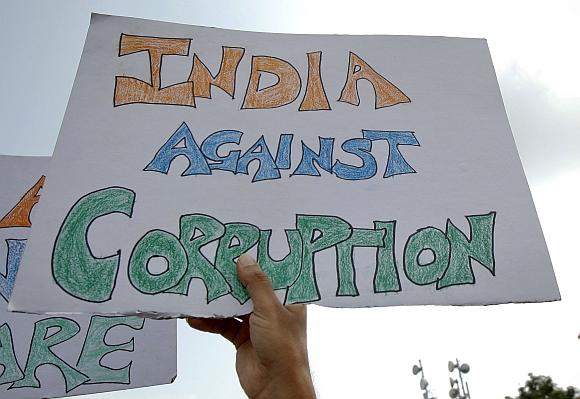 In a major crackdown on domestic shell companies, the government on Friday decided to take "harsh punitive" action, including freezing of their bank accounts used to launder money or evade taxes.
Following a review by the Prime Minister's Office, a task force with members from regulatory ministries and enforcement agencies has been constituted to monitor action against "deviant" shell companies.
While the Serious Fraud Investigation Office (SFIO) has filed cases against 49 shell companies, as much as Rs 3,900 crore have been laundered by 559 persons with the help of 54 professionals. Also, Rs 1,238 crore cash has been deposited in shell or dormant companies, post demonetisation.
"There are about 15 lakh registered companies in India and only 6 lakh companies file their annual return. This means a large number of these companies may be indulging in financial irregularities," a PMO statement said.
A task force, headed by revenue and corporate affairs secretaries, with members from various regulatory ministries and enforcement agencies has been set up to monitor the actions taken against such deviant shell firms by various agencies.
"Harsh punitive actions will be taken against the deviant shell companies which will include freezing of bank accounts, striking off the names of dormant companies, invocation of Benami Transactions (Prohibition) Amendment Act, 2016," it said.
The regulatory ministry concerned will ensure disciplinary actions are initiated against the professionals indulging in malpractices and abetting the entry operators of the shell companies.
It was decided at the meeting that appropriate "red flag" indicators will be used for identifying shell companies, and a database of such companies and their directors will be built by pulling in information from various agencies.
The database will also capture Aadhaar numbers of individual directors in the companies, the statement said.
Shell companies are characterised by nominal paid-up capital, high reserves and surplus on account of receipt of high share premium, investment in unlisted companies, no dividend income and high cash in hand.
Also, private companies as majority shareholders, low turnover and operating income, nominal expenses, nominal statutory payments and stock in trade, minimum fixed asset are some of the characteristics, the statement said.
The meeting reviewed the functioning of 'Shell Companies', which do not conduct any operations, so as to prevent their misuse for money laundering and tax evasion, especially in the context of unearthing blackmoney post demonetisation, it said.
This is among a series of steps being taken by the income tax department to plug loopholes in the law and deter people from wrongly availing of capital gains benefit.
With bogus capital gains of Rs 80,000 crore availed by shell companies last year coming to the notice of the I-T department, the Budget 2017-18 has proposed 10 per cent long-term capital gains tax on those who acquired shares in unlisted companies after October 1, 2004, if they had not paid securities transaction tax at the time of purchase.
Last month, targeting shell companies, the government had issued rules requiring foreign firms to pay taxes in India if the effective control of business, management decisions and majority of board meetings take place within the country.
The long awaited Place of Effective Management (POEM) rules, to be effective the current fiscal (April 2016), will not apply to companies with a turnover or gross receipts of Rs 50 crore or less in a financial year.
The rules require foreign companies in India and Indian firms with overseas subsidiaries to pay local taxes based on where the business is effectively controlled.
The statement issued on Friday said a small sample analysis of domestic shell companies has found that Rs 1,238 crore cash have been deposited in these entities in November-December.
SFIO has launched criminal prosecution against them for cheating the government after investigation of entry operators running a group of 49 shell companies and other proprietorship concerns.
"It has been found that 559 beneficiaries have laundered money to the extent of Rs 3,900 crore with the help of 54 professionals who have been identified," it said, adding that the information has been shared with SIT, the income tax department, the Enforcement Directorate, Sebi and the Institute of Chartered Accountants of India.
The tax department has reopened completed assessment in these cases and the Enforcement Directorate has initiated action under the Prevention of Money Laundering Act (PMLA), 2002. ICAI has also initiated disciplinary proceedings against its members. Winding up process has been initiated in respect of 49 shell companies, it said.
"In order to create a credible deterrence, a 'Whole of Government Approach' will be adopted through coordinated efforts and by leveraging technology," it added.