Gold edged lower on Monday after rising by the most since November in the previous session on poor U.S. jobs data, with funds expected to continue cutting bullion holdings for better investment yields elsewhere.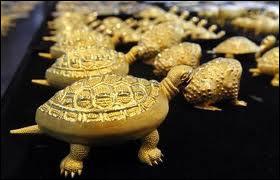 But gold futures in Tokyo jumped almost 5 per cent to near all time-highs after the yen dropped to near four-year lows on reports that the Bank of Japan would begin buying longer-dated bonds immediately to beat deflation.
Spot gold slipped 0.2 per cent to $1,579.06 an ounce by 0309 GMT, also hurt by a firmer dollar versus a basket of currencies.
Gold jumped nearly 2 per cent on Friday after data showed US employers hired at the slowest pace in nine months in March, backing expectations the Federal Reserve will sustain its bullion-boosting monetary stimulus programme.
Monday's price drop shows the fund shift out of gold remains intact with the US economy generally expected to perform better in the longer term, said Joyce Liu, investment analyst at Phillip Futures.
"People are really pulling funds out of gold for better investments such as equities and real estate in emerging economies," said Liu.
"The kind of rally that we saw from 2009 to 2011 is no longer going to be there anymore. We are more or less used to having so much money flowing around in the economy."
Liu said she sees gold testing a support level of $1,530 possibly over the next two weeks.
Gold hit a 10-month low of around $1,539 last week and is down nearly 6 percent this year. In contrast, the S&P 500 stock index has gained almost 9 percent.
ETF outflows
Others are more bearish towards gold's prospects.
"The lack of investment interest is currently a key drag on the market," Credit Suisse analysts said in a note.
"With technical momentum turning negative, there is a risk for a shift lower towards $1,520 and ultimately $1,500, which is a critical technical area that needs to hold for the sideways trend to remain intact."
US gold futures were up 0.2 percent at $1,578.90 an ounce.
Bullion holdings at the world's major gold exchange traded funds continued to fall, hitting their lowest since August 2012.
In Tokyo, gold futures surged as much as 4.8 per cent to 5,025 yen per gram, near the record high of 5,081 yen touched in February, as the yen faltered. The most-active February contract on the Tokyo Commodity Exchange was last up 4.4 percent at 5,007 yen.
The Japanese currency slid to its weakest versus the dollar since June 2009 on reports that the central bank would buy 1.2 trillion yen of government bonds with a maturity of over five years this week, showing a sense of urgency never before seen in the BOJ.
Last week, the BOJ promised to inject about $1.4 trillion into the economy in less than two years, a gamble that sent bond yields plummeting as prices rose on the prospect of massive purchases of debt by the central bank.