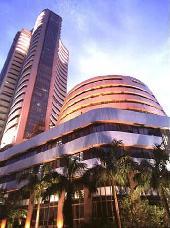 Indian shares slumped for second-straight trading session with the 50-share Nifty ending below the 200-day moving average of 5,638 while the benchmark Sensex breaking its 200-day moving average of 18,593.

Risk appetite turned sour on back of heavy selling by exchange traded funds in the cash and futures market segment.

The foreign institutional investors sold shares worth a net Rs 368.39 crore on 3 April 2013, as per provisional data from the stock exchanges.

FIIs have invested over $10 billion this year and have been the biggest factor in supporting markets despite sluggish growth and weak macro.

Investor sentiments were also jittery over political instability at Asia's third-biggest economy after Bhartiya Janta Party veteran LK Advani hinted at an early election on Wednesday shackling the prospects of economic reforms by the beleagureed government.

Mirroring the domestic macro-economic concerns, the Bombay Stock Exchange's 30-share index Sensex dropped 291.94 points to end at 18,509.70 while the National Stock Exchange's 50-share Nifty shed 98.15 points at 5,574.75.

"The political scenario back home is not conducive to invest. If Advani says elections can happen early then it can happen, may be in November," said Deven Choksey, MD, KR Choksey today.

Global risk appetite also remained frail after weak economic reports on hiring and service industry growth in the U.S fuelled concerns over growth recovery in the world's biggest economy.

Asian shares ended mixed with Japan's Nikkei notching 2% to 12,634.54 after Bank of Japan's bold easing measures while Strait Times declined 0.3% to 3,313 today. Markets in Hong Kong, Taiwan and China were shut today for a holiday.

The
next major global cue is monetary policy from European Central Bank President Mario Draghi later in the day.
Back home, all the key sectoral indices ended lower with real-estate, IT, banks, consumer durable, metal sectors leading the drop on BSE.
The laggards included counters such as Tata Steel and Jindal Steel dropping 4% each, SBI and ICICI Bank fell 2% each, Sterlite and Hindalco Industries shed 3% and 2% respectively while Infosys dropped 2.7% on BSE.
The gainers on the Sensex were Coal India adding nearly 2.6%, Dr Reddy's up 3% , while HUL rose 2% on BSE.
Shares of information technology (IT) companies were under pressure on the bourses on concerns of lower earnings growth for the four quarter ended March (Q4FY2013).
HCL Technologies, Infosys and TCS fell nearly 2%, while Mahindra Satyam, Wipro and Mphasis were down by around 1% each on the Bombay Stock Exchange.
Bucking the market trend were shares of sugar manufacturers that rallied up to 9% on hopes that the government may soon remove some curbs on the tightly controlled sector.
Bajaj Hindustan and Shree Renuka Sugars rallied almost 9% to Rs 21.65 and Rs 25.35 respectively on BSE.
The notable movers included, Indraprastha Gas (IGL) dipped 2.7% to Rs 270.5 on back of heavy volumes on reports that the Supreme Court has deferred its case hearing against Petroleum and Natural Gas Regulatory Board (PNGRB) to April 16.
Hyderabad-based pharmaceutical major Dr Reddy's Laboratories (DRL) gained 3% as it launched zoledronic acid injection in the US market following approval by the United States Food & Drug Administration.
The broader markets slumped with mid-caps and small-caps declining nearly 2% on BSE.
The market breadth ended weak. Out of 2,866 stocks traded, 1,842 stocks declined compared to 911 advances on BSE.