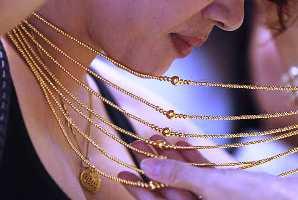 India's gold and silver imports are expected to have declined substantially to 2-2.5 billion in June following recent steps taken by the government as well as the RBI to curb imports of the yellow metal.

These imports grew 89 per cent to $8.39 billion in May.

During the first two months of the current fiscal, April-May, their inward shipments grew 109 per cent to $15.88 billion.

"The steps taken by both, the government and the Reserve Bank of India, have yielded positive results.

"In June, gold and silver imports are expected to have dipped to $2-2.5 billion," a senior Commerce Ministry official told PTI.

The government has hiked import duty on gold three times within a year.

Recently it raised the duty by 2 per cent to 8 per cent to curb gold demand.

Besides, the RBI too has put restrictions on banks on importing gold.

Finance Minister P Chidambaram had appealed to people not to buy gold and instead invest in financial instruments.

The official said the decline in imports in June will help bridge trade deficit and current account deficit.

Trade deficit in May was $20.1 billion, highest in the last seven months. Higher trade deficit puts pressure on CAD, which has been described by the Reserve Bank as the biggest risk to the Indian economy.

The CAD, which is the difference between the outflow and inflow of foreign currency, stood at 4.8 per cent of the GDP in 2012-13 fiscal.

The CAD had touched a record high of 6.7 per cent in the October-December quarter.

The final figures for gold and silver imports will be released by the Commerce Ministry by the middle of this month.

Gold imports into India, the world's largest consumer of the metal, stood at around 830 tonne in 2012-13.

Meanwhile, snapping its five-day long rally, gold prices today fell by Rs 110 to Rs 26,720 per 10 grams in the national capital on sluggish demand at prevailing higher levels amid a weak global trend.
Image: A customer tries on a gold necklace at a shop in Hanoi, Vietnam; Photograph: Nguyen Huy Kham/Reuters