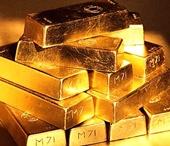 Buoyed by the rising demand ahead of the marriage season and diversion of funds by investors tobullion on falling equities, gold prices today crossed the psychological level of Rs. 26,000 per 10 grams for the first time ever.
Continuing its five-day long rising streak, the metal added Rs. 214 to Rs. 26,055 per 10 grams in New Delhi on the back of strong global cues, where the precious metal touched record high levels.
Gold of 99.9 and 99.5 per cent purity advanced by Rs. 215 each to Rs. 26,055 and Rs. 25,935 per 10 grams, respectively.
However, sovereigns shed Rs. 100 to 20,900 per piece of eight grams.
In New York, gold rose to an all-time high of $1,782.50 an ounce, after the Federal Reserve, seeking to bolster the economy, pledged to keep its benchmark interest rate at a record low through at least mid-2013,
boosting demand for the metal as a haven investment.
Besides, a rising trend in the futures trade and buying by retailers to meet the marriage season demand further influenced the sentiment.
Market experts said the spurt in demand for gold is mainly due to US credit rating downgrade and a faltering economy, which boosted the demand for protection of wealth.
Maximum upsurge in prices was seen after Standard and Poor's announcement of downgrading the US credit rating from AAA to AA+, which spurred a rout in global equities and stoked concern that the US may lapse into another recession, they added.