GMR Infrastructure on Monday questioned the Maldives government's decision to scrap the $500 million airport contract despite a stay granted by the Singapore High Court in the presence of the island nation's legal counsel.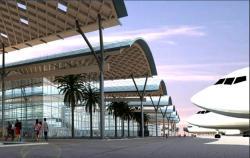 It vowed to take forward the legal battle in this regard.

Reacting to the Maldives government's stand that its decision of termination of Male airport contract to GMR-led consortium was "non-reversible and non-negotiable", CEO of GMR Male International Airport Andrew Harrison said sovereign guarantee was provided in the agreement and should be "respected".

Notwithstanding a stay granted by Singapore High Court, Maldives government said the termination notice stood and it will pay a compensation to the GMR Group.

The details of the compensation proposed by Maldives
were not immediately available.
Harrison, in a television interview, also said: "The same concession agreement should be respected" and that the Maldives government was a guarantor to it.
He said the stay was granted by the Singapore High Court and "the (Maldives) Attorney General was present in the proceedings."
"We would fight for our rights all the way to Court," Harrison said, adding the company would take all the steps "legally".
Harrison, in the interview, also denied receiving any communication from the government in this regard.
"We have had no direct communication from the government ... We expect any other communication would come to us directly," he said.
Earlier hours after the Singapore High Court granted a stay on Maldives government decision to terminate Male airport contract given to GMR, Maldives said the decision was "non-reversible."