The judge, during arguments, said it was "blindingly obvious" that "rules were broken by the bank" and that they had "gone against their own guidelines" in extending a loan to the business tycoon's now defunct Kingfisher Airlines, reports Ashis Ray.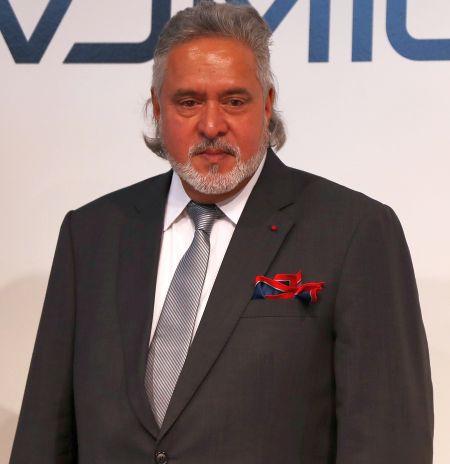 On Friday, the hearing of the Indian government's application in an English court to extradite Indian businessman Vijay Mallya to face trial on a fraud claim advanced to the business end, with the chief magistrate at Westminster Magistrates' Court, Emma Arbuthnot -- who candidly called the matter "a big case" -- pertinently ordering the prosecution to submit "draught charges" or a specific charge-sheet against the defendant before April 20.
She indicated she was not satisfied with the manner in which the government had presented its case, suggesting it was copious and convoluted.
Nevertheless, for the first time since the extradition proceedings began on December 4 last year -- and it hasn't been a continuous hearing -- there arose a glimmer of hope for the government when Arbuthnot remarked in course of the arguments it is "blindingly obvious" that "rules were broken by the bank (IDBI)" and that they had "gone against their own guidelines" in extending a loan to Mallya's now defunct Kingfisher Airlines.
Yet, she rather reduced the expectation by pin-pointing there was at least one instance of questionable evidence. The witness statements of "Nimka" and "Pandya", produced by the Central Bureau of Investigation, she said, were "identical" and "total replicas".
The barrister appearing for the Government of India, Mark Summers, alleged IDBI Bank granted the facility of Rs 7.5 billion to Kingfisher Airlines "without adherence to the bank's rules" and that there was a conspiracy between Mallya and the chairman of the bank.
He also maintained the former's alleged culpability fulfilled the requirements of "dual criminality" under English law. Clare Montgomery, the barrister representing Mallya, contested this by stating "the lending was sponsored and approved by State Bank of India (which was in the consortium of lenders)" and that it had performed "prior detailed analysis of the borrower".
In his most combative performance yet, Summers painted a picture of Mallya's behaviour being a "blueprint for dishonesty" and "a clear, obvious case of fraud". He concluded his 85-minute argument by saying the material against the Indian entrepreneur was the "clearest case of admissible hearsay evidence". Whether or to what extent "hearsay" will be accepted remains to be seen.
The government of India is required to essentially establish there is a prima facie case for Mallya to face trial at home. But it also needs to assure the English court that he will be fairly treated by the Indian judiciary, not subjected to torture and, if detained, kept in prison conditions that are up to international standards.
Montgomery sprung up the moment Summers finished. She described his presentation as "high-flown, rhetorical argument" and stressed there was "no evidence anything dishonourable or discreditable was going on". Indeed, she accused the CBI of submitting a "false statement". She cited the investigating agency had provided "precise repetition (in different statements) including spelling errors".
The lawyers also sparred on the admissibility of witness statements under Section 161 of the CrPC -- a path chosen by the CBI. Summers maintained this was allowable, explaining the Indian practice was different from the English practice. Montgomery emphasised contended statements under Section 161 before a police officer "do not constitute evidence".
She added: "This set of material is evidentially worthless." She claimed the CBI manual recommended statements should be taken under Section 164, in other words before a magistrate.
Mallya was arrested in London -- where he has now been resident for two years 11 months ago, before being released on conditional bail. Following this, extradition proceedings against him began on December 4 last year. These have presently reached a crucial stage, with Arbuthnot set to rule on admissibility of evidence gathered by the CBI. If she rejects the proof provided, the government's case could collapse instantaneously.
Arbuthnot reserved her opinion on legal and professional privilege. This was in the context of whether conversation between Mallya and his lawyer in India can be admitted as evidence. In short, Mallya's fate hangs in the balance. The next hearing is scheduled to take place on April 27. It is unclear if Arbuthnot will adjudicate on admissibility on that date or later. Either way, such a decree could signal a clue to the overall judgment. Of course, both sides would still enjoy a right of appeal to the high court.
Image: Vijay Mallya will learn of his fate in the next hearing schedule on April 27. Photograph: Mark Thompson/Getty Images