Expressing concern over decline in economic expansion during the quarter ending March, the Plan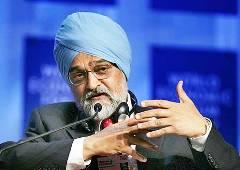 panel said on Tuesday gross domestic product growth rate during the current fiscal is likely to be around 8 to 8.5 per cent.

"The real concern is that quarter-on-quarter growth rate for last quarter (of 2010-11) has come down an little bit," Planning Commission Deputy Chairman Montek Singh Ahluwalia told reporters in New Delhi.

He was commenting on data released by the government on Tuesday which showed the growth rate during the January-March 2011 quarter slowing down to 7.8 per cent, mainly on account of moderation in growth of manufacturing and mining sectors.

The data further revealed that GDP growth rate was 9.4 per cent in the last quarter of 2009-10 and 8.3 per cent in the third quarter of 2010-11.

The annual growth in the 2010-11 works out to be 8.5 per cent, marginally below the earlier projection of 8.6 per cent, as per the data.

However, it is better than the 8 per cent economic growth achieved by the country in 2009-10.

"It is true that it (fourth quarter growth) is lower but aggregate GDP growth (for 2010-11) is lower by (only) 0.1 per cent than the projected 8.6 per cent," Ahluwalia added.

Asked about the likely economic growth this fiscal, Ahluwalia said it would be in the range of 8 to 8.5 per cent.

"We have lowered the growth forecast for 2011-12.

"The Reserve Bank of India has said something.

Finance Ministry has said that it should be 8.5 per cent. I think somewhere between 8 to 8.5 per cent," he said.

In its pre-Budget survey, the government had pegged economic growth for 2011-12 at 9 per cent.

However, the Reserve Bank, in its monetary policy released earlier this month, said that GDP growth during 2011-12 would be only around 8 per cent.

"I think what is going to matter is creation of more investment friendly climate and whether the pace of investment in infrastructure picks up. There is a need for more Public- Private Partnership projects and promoting those should be our objective," Ahluwalia said.

The Plan panel chief also said that the coming months could see a moderation in the inflationary pressure.

"It (inflation) is a matter of concern all across the world. During the year you will see inflation down, but it would be a gradual, not sharp reduction," he said.

Headline inflation stood at 8.66 per cent in April.

RBI, in its policy, had said that inflationary pressure would persist in the near run and overall inflation would average 9 per cent during the first half of the fiscal, before moderating to around 6 per cent by March 2012.
Image: Montek Singh Ahluwalia