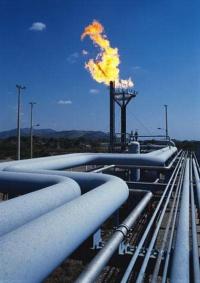 Russia's natural gas monopoly Gazprom has entered into a mega commercial deal with Indian Oil Corporation Ltd to deliver 2.5 million tonnes of liquefied natural gas over the next 25 years, according to media reports.
Under the deal signed in London, Gazprom through its Asian subsidiary Gazprom Marketing and Trading Singapore will supply 2.5 million tonnes of LNG to IOCL, Russia's official ITAR-TASS news agency reported.
The two companies have been successfully cooperating since 2007 as cooperation in hydrocarbons.
Gazprom will source LNG to India from its existing Sakahlin-2 offshore
gas fields and new sites in Russia and abroad.
In a release in Moscow, Gazprom said it considered India as 'one of its key LNG markets', along with Japan and other Asian countries.
Earlier last month, Gazprom's Singapore-based subsidy had signed MoUs with Indian energy majors - Gas Authority of India Limited, Gujarat State Petroleum Company and Petronet LNG Limited (Petronet) to supply about annual supply of 7.5-10 billion cubic metres of LNG.
According to Indian Ambassador to Russia Ajai Malhotra, the energy cooperation between Russia and India in the civil nuclear and hydrocarbons is set to become a "pillar of bilateral privileged strategic partnership".