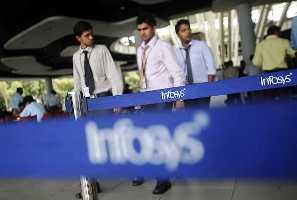 Information technology leader Ganesh Natarajan hailed N R Narayana Murthy's reappointment as executive chairman and additional director of Infosys on Saturday.

"It's one of the best things that has happened to the IT company in recent times, Natarajan told rediff.com over the phone on Saturday afternoon.

One of the most prominent faces of the IT industry, Natarajan has led Zensar as the chief executive officer for over a decade.

He chairs the National Knowledge Committee of the Confederation of Indian Industry and is a member of the Chairmen's Council of industry association, Nasscom. He was Chairman of the National Association of Software and Services Companies in 2008-09.

"The state of Infosys has been in the doldrums for some time and Murthy's return as chairman will go a long way in repairing its position," Natarajan added.

The Zensar CEO is confident that Murthy's comeback will send out a strong signal to the company's clients as well as its shareholders that Infosys is serious about its efforts to regain one of the top positions in the IT industry.

"The decision will reinstate the shareholders' faith in Infosys," he said.

However, Natarajan thinks that though S D Shibulal continues to be the managing director and chief executive officer of the company, after a couple of years, Infosys might want to hire someone from outside
as the CMD.
"I am in no position to comment about Infosys' internal decisions but as a member of the IT industry, that seems to me the best option for the company to consolidate its future," the Zensar CEO told
rediff.com
.
In a major top management re-shuffle, Infosys said on Saturday it has
re-appointed
N R Narayana Murthy as executive chairman and additional director with immediate effect.
The decision was taken at a board meeting held earlier in the day, Infosys said in a statement, adding the appointment will be with effect from June 1.
In August 2011, banker KV Kamath was appointed chairman, succeeding Murthy, who was made the chairman emeritus post his retirement.
Following Saturday's announcement, Kamath would step down from his position as chairman of the Infosys Board and take up the role of lead independent director.
"The Board has taken this step keeping in mind the challenges that the technology industry and the company faces and in the interest of all stakeholders, particularly shareholders large and small, who have asked for strengthening of the executive leadership during this challenging time," Kamath said.
With inputs from PTI
Image: Employees of Infosys walk past Infosys logos at their campus in the Electronic City area in Bengaluru. | Photograph: Vivek Prakash/Reuters