The Indian startup ecosystem has lauded the inclusion of startups in the New Delhi Leaders' Declaration for the first time ever in the history of G20.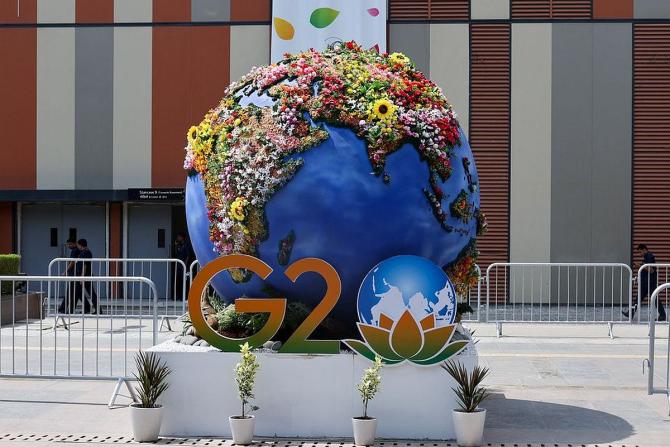 Industry stakeholders say that the move will lead to easier access to capital, reduce regulatory hurdles, and may revive funding activity.
The Declaration, through the Startup20 initiative, recognised startups as "natural engines of growth" and key to socio-economic transformation by driving innovation and creating employment.
It also introduced a framework for the development, deployment, and governance of digital public infrastructure (DPI).
"We are incredibly thrilled to see the inclusion of startups as part of the Delhi Declaration for the first time in the history of G20," says Rajan Anandan, managing director, Peak XV Partners (formerly Sequoia India) and Surge.
"India took the initiative to launch the Startup20 Engagement Group during its G20 Presidency, and as an ecosystem, we are grateful to have been a part of it," he added.
The Startup20 Engagement Group
Startup20, the brainchild of the Department for Promotion of Industry and Internal Trade (DPIIT) and Atal Innovation Mission, is an official Engagement Group established under the G20 India Presidency 2023.
It is touted as a dialogue forum with global startup ecosystem stakeholders such as startups, corporates, investors, and innovation agencies.
Under this Group, the G20 had set up several task forces – including one each for Finance, Foundation and Alliances, and Inclusion and Sustainability.
Recommendations made by these task forces, headed by various industry veterans, were discussed at the Shikhar summit in Gurugram in July this year, which brought together 600 delegates from 22 countries.
Anandan is one such veteran, acting as the co-chair of the Finance task force.
Others who are part of this task force include Paytm founder and CEO Vijay Shekhar Sharma, Zerodha founder Nithin Kamath, and upGrad chairperson Ronnie Screwvala.
Likewise, multiple veteran Indian venture capitalists and startup founders are members of the other task forces.
These include the likes of NASSCOM president Debjani Ghosh, Infosys co-founder Kris Gopalkrishnan, and TVS Capital Fund's chair and managing director Gopal Srinivasan, among others.
Major Recommendations
The Startup20 forum, in its recommendations, called for a global definitional framework for start-ups as well as a policy framework to strengthen ecosystems within and across G20 nations.
"A globally agreed-upon definition of startups will provide clarity and consistency in identifying and categorising startups.
"This will help Indian startups gain international recognition and potentially attract more global investment," says Gaurav VK Singhvi, co-founder, We Founder Circle (WFC) – an early-stage investment platform.
Member nations have also decided to increase and diversify access to capital and ease market regulations for startups.
"We can expect faster G2G (government-to-government) alignment on cross-border technology adoption, such as UPI and RuPay payment integrations," says Pranav Pai, founding partner and chief investment officer, 3one4 Capital – an early-stage venture capital (VC) firm.
GIFT IFSC, he adds, can also become the ideal staging ground for coordination between these global ecosystems "by inviting more institutional investors to set up their India focus from there."
Anshoo Sharma, CEO and co-founder at magicpin – a hyperlocal delivery startup, concurs.
"It (Startup20) helps bring capital and talent together across G20 countries to take India's best to other markets and bring the best from other markets to India," he says.
The proposed easing of market regulations is also expected to reduce compliance burdens for many startups.
Trishneet Arora, founder and CEO, TAC Security – a cybersecurity startup, says this would allow startups to navigate complex compliance requirements, reduce operational costs, and accelerate time-to-market.
"It enables startups to focus on their core mission of innovation rather than bureaucratic hurdles," he says.
This would, in turn, reduce risk and further enable investments, adds Sandeep Agrawal, director and co-founder, Teamlease Regtech – a software-as-a-service (SaaS) startup.
"In addition, it will also promote seamless sharing of knowledge and give rise to opportunities for collaboration," he says.
One of the most significant recommendations, however, is that every G20 nation would aim to invest one per cent of their GDP into startups by 2030.
This adds up to one trillion US dollars per year of startup funding across the G20 nations.
This investment plan, startup founders say, has emerged as a "beacon of hope" amid the ongoing funding slowdown in the Indian startup ecosystem.
"This (the investment) could help to revive the startup funding activity and create more opportunities for startups to scale and succeed," says Anirudh A Damani, managing partner, Artha Venture Fund – an early-stage micro-VC fund.
The easing access to capital is also likely to allow startups to have more options for raising money from a variety of sources, such as venture capitalists, angel investors, and government funding agencies, without facing regulatory barriers.
"For example, startups will be able to more easily obtain licences and permits, which will allow them to launch and operate their businesses more quickly," explains Dinesh Arjun, CEO and co-founder of electric vehicle (EV) startup Raptee.
Prabhjot Kaur, co-founder of EV startup Esmito, says: "There are several global investment instruments that are currently difficult to avail, making those instruments available is certainly a welcoming step.
"We need to have a detailed framework defined for accessing this capital."
Digital Public Infrastructure
The New Delhi Declaration also introduced a framework for the development, deployment, and governance of digital public infrastructure (DPI) – essentially state-controlled digital platforms upon which apps, private or public, can be built to expand the delivery of services.
"We welcome India's plan to build and maintain a Global Digital Public Infrastructure Repository (GDPIR), a virtual repository of DPI, voluntarily shared by G20 members and beyond," read the declaration.
Sharad Sharma, co-founder and volunteer at iSPIRT Foundation, welcomed the move.
iSPIRT played a key role in the creation of the India Stack, a critical part of India's DPI story.
India Stack, he says, was built to address the innovation deficit – which Indian startups are addressing, and the deficit in jobs – which will come from MSMEs.
"These jobs and innovation deficits are not unique to India.
"They exist in all of the Global South and, to some extent, even in the Global North," Sharma said.
"Many countries are interested in replicating the India Stack story," he said.
Meanwhile, Harsimarbir Singh, co-founder of healthtech startup Pristyn Care, says: "Global access to deep tech resources will significantly benefit Indian startups, enabling us to harness cutting-edge technologies and stay at the forefront of innovation."