'Given that the market is now demanding disciplined growth, well-run companies should be able to demonstrate profitability with the cash on hand.'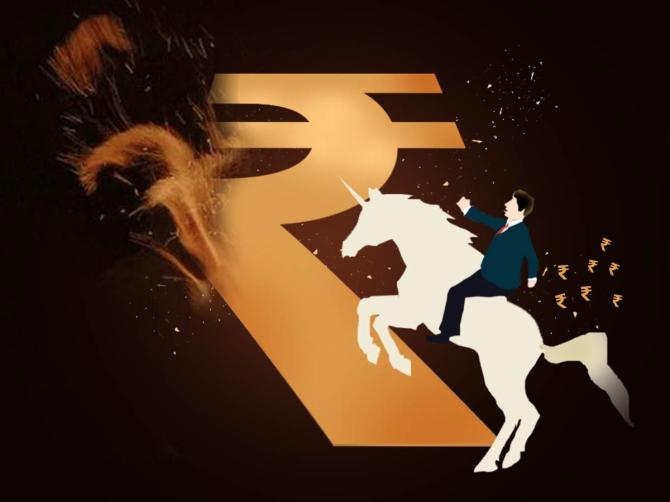 January 22, 2022 is a historic day for the Internet economy. That day Amazon declared its first ever quarterly profit. It had been around since 1995 and lost $2.8 billion till then.
The profit showed Amazon, one of the best-known Internet brands, had come back from the brink, that its model could work, and that the troubles caused by the bursting of the technology bubble in the early 2000s were behind it.
Cut to July 7. Meesho, the Bengaluru-based e-commerce unicorn (a startup valued at more than $1 billion), said it had turned profitable in July.
Vidit Aatrey, who co-founded Meesho in 2015, said it was India's first horizontal e-commerce platform -- one that brings online a large number of sellers from diverse segments -- to become profitable.
The profit after tax Meesho is talking about is in single digits, meaning less than Rs 10 crore (Rs 100 million), much smaller than the $5 million that Amazon declared on January 22, 2002.
Besides, Meesho's scale and place in history are no match to Amazon's. However, there is no denying the significance of its first profit.
It shows Meesho's model of focusing on small businesses can work.
More importantly, Indian unicorns may have found a way to deal with the so-called funding winter, marked by investors tightening their purse strings.
Meesho laid off 250 employees in May and cut spending on customer acquisition, marketing, and technology.
Its Chief Financial Officer Dhiresh Bansal earlier told Business Standard that Meesho saw a "43 per cent increase in order volume, culminating in over a billion orders" during the past 12 months.
There are other Indian unicorns carving profits out of the ice of the funding winter.
A day after Meesho, fintech unicorn MobiKwik said it had posted a consolidated profit for the first time, at Rs 3 crore (Rs 30 million), in the first quarter.
"Our vision for 2023-2024 is to achieve profitability in all quarters," said Bipin Preet Singh, MobiKwik's co-founder and CEO.
Food delivery giant Zomato reported its first profit in the first quarter of the current financial year, at Rs 2 crore (Rs 20 million), compared to a loss of Rs 186 crore in the same period last year.
'We expect our business to remain profitable, Zomato's CFO Akshant Goyal said in a regulatory filing.
Zomato's rival Swiggy said its food delivery business turned profitable in the last quarter of 2022-2023 after considering corporate costs and excluding employee stock options.
At least 21 of India's 92 unicorns have become profitable. Others such as Paytm and Delhivery have presented a clear path to profitability.
"The heightened investor scrutiny, especially during the recent funding slowdown, has finally pushed companies to prioritise their margins," says Anirudh A Damani, managing partner, Artha Venture Fund, an early-stage micro-venture-capital fund.
"Ensuring a business model that offers genuine value while maintaining profitability isn't just ideal; it is imperative."
This should be music to investors' ears.
Japanese investment giant SoftBank said its investments in Zomato, Paytm, Delhivery, and PB Fintech contributed gains of more than $400 million to the SoftBank Vision Fund during the quarter ended June 30, 2023.
"Given that the market is now demanding disciplined growth, well-run companies should be able to demonstrate profitability with the cash on hand," says Pranav Pai, founding partner at 3one4 Capital, an early-stage venture capital firm.
Sectors of high cash burn, such as quick commerce, are not untouched by this profit drive.
Mumbai-based Zepto, which first came into the limelight with its promise of 10 minute deliveries, says it is on track to turn profitable in the next year or so.
In a recent interview with Business Standard, Zepto's Co-Founder and CEO Aadit Palicha said he expected the company to become cash flow-positive in the next 12 to 15 months.
The company has seen a 300 per cent growth in sales this year. Its dark stores, contributing to over half of its business, are now profitable.
As startup valuations become more realistic, and nascent businesses inch closer to the profitability threshold, they will be able to generate investor interest and raise capital "on their own terms", says Pai of 3one4.
And then, who knows, the funding winter might thaw under the fire of profits.
Feature Presentation: Ashish Narsale/Rediff.com