So far, nine companies have raised Rs 17,860 crore - nearly three times of last year's tally - by way of rights issues.
Illustration: Dominic Xavier/Rediff.com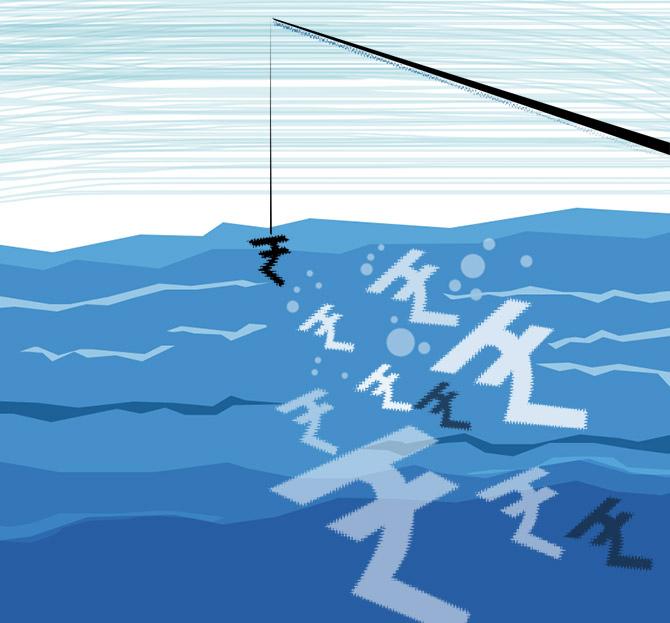 Fundraising through the rights issue route has hit a 10-year high this year.
So far, nine companies have raised Rs 17,860 crore - nearly three times (2.7 times to be precise) of last year's tally - by way of rights issues.
Investment bankers said with weakness in the broader market and spike in volatility, companies have been forced to look at rights issues over the preferred qualified institutional placement (QIP), another way of raising capital where shares are privately placed to a set of investors.
This year, Rs 16,100 crore has been raised by way of QIPs, 70 per cent less than last year when Rs 56,100 crore was raised, data provided by Prime Database shows.
QIP issuances are likely to remain subdued till the market conditions improve.
Companies with dire requirement of capital will have to explore the option of rights issue, said bankers.
The biggest rights issue in 2018 was by Tata Steel, to raise Rs 12,700 crore.
The company utilised the proceeds of the issue for debt repayment.
Indiabulls Ventures and Piramal Enterprises raised around Rs 2,000 crore each from their rights offering.
To be sure, the overall rights issues tally for the year has been boosted by some large issuances.
Industry players, however, said now there is a shift in strategy where large corporates are considering rights issues, an instrument which had lost its popularity in the years 2016 and 2017.
Only Rs 1,900 crore and Rs 3500 crore were raised through rights issue in 2016 and 2017, respectively.
On the other hand, QIP issuance in 2016 stood at Rs 4,700 crore and in 2017 it hit a record high of Rs 56,100 crore.
Experts said when market conditions are buoyant, listed companies find it faster, cheaper and more efficient to raise money through the QIP route.
Typically, companies opt for rights issues when promoters don't want to dilute their holdings.
Rights issues can also lead to an increase in promoter shareholding if they subscribe to the unsubscribed portion of an issue.
"With the equity markets correcting, a lot of scrips have fallen significantly in 2018.
"Promoters may look to raise their stake in their company by way of rights issue where some minority shareholders do not subscribe," said Ajay Saraf, executive director, ICICI Securities.
While the benchmark Sensex is up 2.2 per cent year to date, the broader market NSE Midcap 100 and NSE Smallcap 100 are down 17.5 per cent and 31 per cent, respectively.
"It may not be prudent to raise further capital through QIPs following the correction.
"I think rights issue is the best way to do it. We will see a healthy pipeline for rights issues in the next three to four months," Saraf said.
Some market participants believe some regulatory tweaks could increase the appeal of rights issues.
"If the rights issue timeline is shortened, we will see issuances go up," said GS Ganesh, founder, Inga Capital, an investment bank.
Market players said it takes about two to three months from planning to execution for a rights issue.
"From the time I start the work to the time the issue gets launched, I have no idea where the scrip will be.
"You may be caught in a situation where you may not have enough subscription because the stock may have nosedived because of the market reaction," added Ganesh.