The Finance Ministry on Monday sought to assure the investors that the country's fundamentals are "very strong" even as the rupee slipped to below 63 to a US dollar and the BSE Sensex plunged by over 426 points on global cues, following currency crisis in Argentina.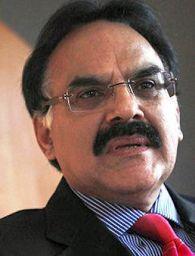 "Current Account Deficit (CAD) is below $50 billion. Foreign exchange reserves are (at) all-time high. We have very strong fundamentals... I don't think that there is any cause of worry," Economic Affairs Secretary Arvind Mayaram told reporters in Nee Delhi.

He was responding to a query regarding the sudden decline in the value of the Indian rupee. The domestic currency slipped to nine-week low of Rs 63.1 to a dollar, while the BSE Sensex plummeted by over 2 per cent or 426.11 points to close at 20,707.45.

Referring to impact of peso crisis in Argentina on the Indian markets, Mayaram said: "There is no reason why we should believe that if Argentina is in trouble today then Indian rupee should follow. I do not think that correlation exists at all."

The steep decline in Argentina's currency peso on Friday triggered a massive fall in stock markets around the world including in India.

On the rupee, Mayaram said: "You would see rupee will remain range bound. There will be some ups and downs but that is normal in markets. And therefore I think we should not be overtly concerned with marginal movements of rupee."

The currencies world over behave in a different manner depending on their own fundamentals, he said, adding that India has seen considerable improvement in its CAD situation.

"Every currency behaves based on its fundamental. When the rupee was taking a beating last year, there was a bit of fear in minds of people that the CAD is going to be very large... Today our CAD is going to be below $50 billion. Foreign reserve are all time high (at USD 290 billion) and we believe that we have strong fundamentals in place," Mayaram said.

CAD, the difference between inflow and outflow of foreign exchange, had slipped to all time high of $88.2 billion in 2012-13 or 4.8 per cent of the GDP.

The Situation has improved with the government and the Reserve Bank taking a series of steps to contain CAD. In the current financial year it is expected to fall below $50 billion.

On whether the recent decision of the RBI to withdraw pre-2005 currency notes was aimed at curbing black money, Mayaram said: "I do not think measures that have been taken have anything to do with demonetisation. What has been said is pre-2005 currency notes, which have lesser security features than post-2005 (ones), will be brought out of circulation.

"It is neither an effort to tackle black money because the issue of black money is a complex subject and simply withdrawing certain series of currency simply won't help in curbing black money."

Referring to growth prospects, Mayaram said: "It will improve. We are seeing green shoots. In some months we are seeing an uptick, other month it has come down. It is never a linear process. The trend is of an uptick and there is pick-up."

Indian economy grew at 4.6 per cent in first half of the current fiscal. It is expected that the growth in the fiscal will be around 5 per cent.
The economic growth fell to decade a low of 5 per cent in 2012-13.