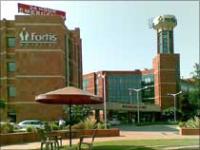 Fortis Healthcare India will pay $665 million to acquire Singapore-based Fortis Healthcare International from a firm owned by its promoters, the Singh brothers.
"The Board of Directors of Fortis Healthcare India has agreed to acquire 100 per cent of Fortis Healthcare International from RHC Financial Services Mauritius Ltd, for a purchase consideration of $665 million," the company said in a statement.
The company had in September this year announced that it will acquire Fortis Healthcare International Ltd from RHC Financial Services Mauritius Ltd, which is owned by the Singh brothers - Malvinder and Shivinder.
Fortis Healthcare India said its board met on Tuesday to consider and approve the valuation for the proposed acquisition recommended by an agency appointed by a committee of the company's independent directors.
"A valuation of $695.7 million was recommended by a Committee of Independent Directors on the basis of fair value recommendation by Haribhakti and Co (an affiliate of BDO International) - an Independent Valuation Agency, appointed for the purpose," the company said.
However, the promoters agreed to offer their investment in Fortis Healthcare International at a price of $665
million, it added.
"Shivinder and I, we both decided that we did not want to look at making a profit from this transaction and we therefore requested the independent committee and requested them to lower the price," Fortis Healthcare Group Chairman Malvinder Mohan Singh told reporters in a conference call.
The acquisition is expected to be completed by mid-December 2011 subject to relevant regulatory approvals in certain jurisdictions, the company said.
The deal would be funded by debt to start with and once the transaction is complete, Fortis Healthcare will execute its other fund raising plans, Singh said.
This acquisition is a part of consolidation of domestic and global operations of the healthcare group, which gave up the bid to control Singapore-based hospital chain Parkway Holdings to Malaysia's Khazanah in July last year.
Fortis International, which was set up last year to pursue overseas business, has made seven acquisitions in 10 markets, including Hong Kong-based Quality HealthCare Asia.
Shares of Fortis Healthcare India were trading at Rs 128.35 on the BSE in late afternoon trade, up 3.09 per cent from its previous close.