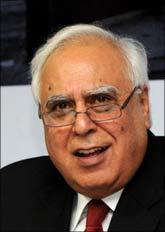 Union Human Resource Development Minister Kapil Sibal has stated that foreign universities and education providers setting up campuses in India will not be required to provide reservations for scheduled castes and tribes and other backward classes.
A PTI story, quoted Sibal stating that ". . . adherence to Indian laws, including on reservation, will be one of the prerequisite conditions for foreign universities interested in setting up their campuses."
Sibal said that only government education institutions were required by law to provide for reservation quotas.
Foreign universities were like unaided private education providers in India, which were not required to set aside seats for scheduled castes and tribes and OBCs. Therefore, the foreign universities could not be treated differently, he said.
In any case, there would be a separate regime for foreign education providers with a case-by-case dispensation, he added.