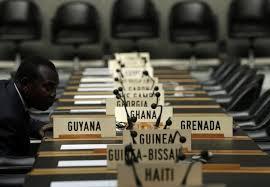 India on Thursday said its food security concerns cannot be relegated to the back but should be taken forward and addressed upfront at the WTO.

Addressing the food security concerns is important as India is still has 190 million hungry people, Cabinet Secretary Ajit Seth said at an event organised by a global think-tank The Club of Rome.

"This issue is too important to be relegated at the back and it must be addressed upfront in WTO," he said, adding that public stockholding is widely used tool to ensure food security in any developing country where agriculture is largely rainfed.

He further said that developing countries, including India should have ample freedom to guarantee some minimum returns to farmers so that they are able to produce enough for themselves and for the domestic food security.

Further, these nations should be able to hold food reserves to feed the poor without the threat of violating international obligations, he added.
Emphasising the need to address the food security concerns in view of high prevalence of low nutrition and hunger in India, Seth said, "The WTO agreement on agriculture does not recognise food security as overarching objective of international cooperation but rather as a deviation from primary objective of agriculture trade liberalisation.

"Many in WTO rules are ambiguous and leads to uncertaintity. . ." he said.

On prevalence of hunger in India, Seth said, "When we talk of hunger, it does not mean two squares meal a day.

"It also includes nutritional and economic security."

While there is some decline in the number of hungry people in India over a decade, but 'we have a long way to go to make the world and India hunger-free.'

Out of 805 million people affected by hunger in the world, 190 million belong to India. Considering the size of the population, we have do much more," he said.

India took a tough stand over food security issue at the WTO Geneva talks in July.

The country refused to ratify WTO's Trade Facilitation Agreement, which is dear to the developed world, without any concrete movement in finding a permanent solution to its public food stock-holding issue for food security purposes.

India has asked the WTO to amend the norms for calculating agri subsidies in order to procure foodgrain from farmers at minimum support price and sell that to the poor at cheaper rates.

The current WTO norms limit the value of food subsidies at 10 per cent of the total value of foodgrain production.

However, the support is calculated at the prices that are over two decades old.