While green shoots are beginning to emerge, with June sales rebounding to pre-Covid levels thanks to a rural revival, most FMCG chief executives have voiced concerns about localised lockdowns that began in July and have extended into August in some states.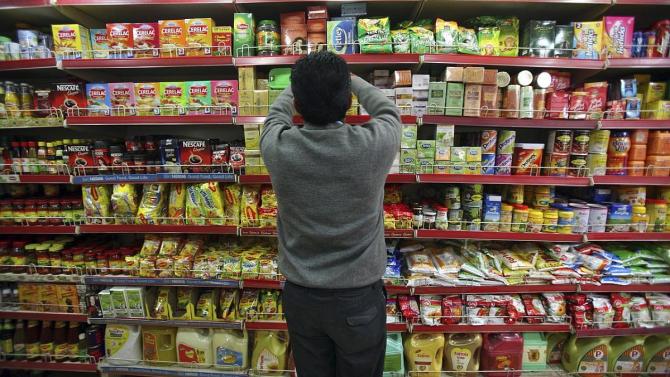 A tiny virus has changed the world irrevocably, altering the way consumers and companies conduct themselves.
Amongst firms affected significantly by the Covid-19 pandemic are fast-moving consumer goods (FMCG) companies.
The last few months have tested their resilience like never before.
Most domestic players are recovering only now from disruptions that lockdown restrictions imposed on daily life since the end of March.
The January-March period reflected partially the impact of the nationwide lockdown on business, but the April-June period laid bare the full extent of the damage.
Market researcher Nielsen says there has been a nearly 18 per cent decline in the Rs 4.3-trillion domestic FMCG market between April and June from a 5.3 per cent growth seen in the March quarter (the figures exclude e-commerce sales).
The dramatic swing has forced the agency to revise its full-year forecast to flat or neutral growth for 2020, the third time it is doing so.
In January and April, Nielsen had forecast FMCG market growth at 10 per cent and five per cent, respectively.
The graph of estimates, say experts, indicates the level of disruption that the pandemic has wreaked on the market.
While green shoots are beginning to emerge, with June sales rebounding to pre-Covid levels thanks to a rural revival, most FMCG chief executives have voiced concerns about localised lockdowns that began in July and have extended into August in some states.
Over a dozen states have seen localised lockdowns in the past month including crucial markets such as Bihar and Uttar Pradesh in the north.
Yet, Nielsen estimates that the impact of localised lockdowns will be limited and the overall FMCG market will grow between four and six per cent in July-December.
"The estimated growth rate for the second half of 2020 may not be enough to pull up the full-year growth forecast of the market. However, we remain bullish about rural growth in particular.
"The localised lockdowns in Uttar Pradesh and Bihar, for instance, have been largely in urban centres such as Lucknow and Patna.
"The rural areas in these states remain relatively open, with lockdown restrictions limited," says Prasun Basu, president, South Asia, Nielsen.
The rural growth engine notwithstanding, the question is who are some of the winners and losers in these challenging times?
Analysts say that biscuit major Britannia has emerged stronger during the crisis, reporting a nearly 27 per cent year-on-year growth in revenue, led by a 22 per cent growth in sales volumes in the June quarter.
While Varun Berry, managing director (MD), Britannia, said that in-home consumption, migrants making their way back to their villages and the easy availability of biscuits aided growth, analysts say that Britannia was quick to seize the opportunity that the pandemic and lockdown gave packaged food companies.
The absence of street food and out-of-home consumption has also helped firms such as Britannia, sector experts say.
The company ensured that at least some of its plants in the initial phase of the lockdown kept churning out a few products including brands such as Good-Day, Marie, NutriChoice and Milk Bikkis.
Production, Berry explains, was slowly ramped up as lockdown restrictions eased in May and June and distribution was restored fast.
Britannia has now set aside Rs 700 crore in additional capital expenditure over the next two-and-a-half years for putting up new plants, expanding existing factories and adding new lines.
The company has also narrowed the gap with competitors such as Parle Products in terms of distribution, say experts, reaching nearly 5.5 million outlets to the latter's 6.5 million outlets.
Nestlé India, on the other hand, reported sluggish revenue growth in the June quarter (around two per cent only), as disruptions remained across the value chain, chairman and MD Suresh Narayanan said.
While the company built back momentum towards the end of the June quarter, Narayanan said that the volatility and stress in the period was unimaginable.
Analysts say that Nestlé saw demand grow for Maggi noodles, dairy whiteners, packaged milk and coffee in the quarter, thanks to in-home consumption, leading to stock-outs at retail outlets.
The company also launched a new range of Maggi noodles in Delhi-NCR, Mumbai and Pune, it said, to take advantage of the demand in the marketplace.
HUL and ITC, meanwhile, reported a mixed set of numbers for the June quarter, with essential categories such as food and hygiene compensating for the under-performance of segments such as discretionary and out-of-home.
Sanjiv Mehta, chairman and MD, Hindustan Unilever (HUL), said that 80 per cent of its portfolio was focused on health, hygiene and nutrition, which grew six per cent in the April-June period.
Some 15 per cent of its business consisted of discretionary categories such as skincare, deodorants and colour cosmetics, which declined 45 per cent.
And five per cent of its business was out-of-home, which included ice-creams and PureIt water purifiers.
This segment declined 70 per cent during the quarter.
ITC said staples, convenience foods and hygiene made up 75 per cent of its FMCG business, which grew 34 per cent in the June quarter.
Discretionary (such as deodorants and fragrance) and out-of-home categories (lifestyle retailing) declined 25 per cent in the quarter.
At a time when concerns around hygiene and health remain strong, ITC, said analysts, would continue to feel the pressure in its cigarettes business, which contributes around 40-45 per cent to the company's total revenue. In the June quarter, the cigarettes business reported a 29 per cent year-on-year fall in revenue.
Of the 55-60 per cent contributed by ITC's non-tobacco businesses to total revenue, nearly 25-30 per cent now comes from the FMCG business, which will be further strengthened in the months ahead.
Photograph: Mukesh Gupta/Reuters