Did top Indian business groups miss the e-commerce opportunity by focusing on replicating the Walmart model instead of following the Amazon model of online shopping?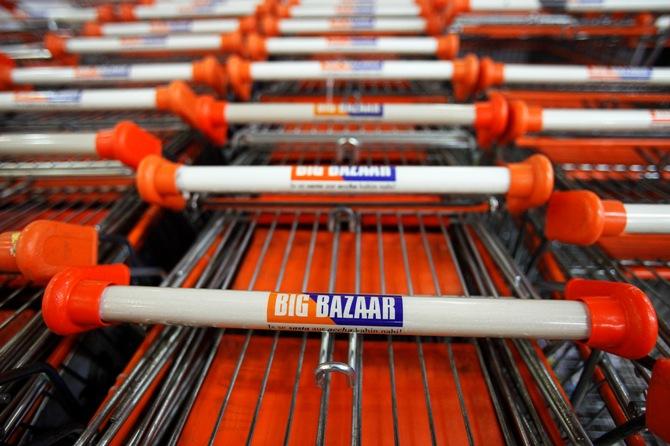 Walmart's decision to spend $16 billion to acquire 77 per cent stake in Flipkart has focused attention on India's top conglomerates, which are yet to build a meaningful presence in e-commerce despite being in the retail industry and years of investments.
The deal values Flipkart at around $20.8 billion (Rs 1.4 trillion), nearly 50 per cent higher than the current market capitalisation of two of India's most successful retailers, Avenue Supermarts (DMart; Rs 909 billion) and Titan Company (Rs 863 billion).
At the deal value, Flipkart is nearly three times more valuable than the combined market capitalisation of Future Group's three listed companies -- the country's largest general retailer in terms of revenues.
This, analysts say, raises a question mark over the retail strategy of India's top business groups.
"Globally, most of the incremental value (market capitalisation) in the sector is happening in the e-commerce space, but Indian business groups are largely investing in brick-and-mortar retail and have failed to make a mark in e-commerce," says a retail analyst, who didn't want to be named.
In the US, Amazon is the most valuable retailer with its current market capitalisation of $780 billion, more than the combined market cap of top listed brick-and-mortar retailers such as Walmart, Home Depot, Target Corp, Costco, Gap, Lowe's Cos Inc, Dollar General Corp and Kroger Co.
Analysts say the top Indian business groups missed the e-commerce opportunity as they focused on replicating the Walmart model instead of following the Amazon model of online shopping, which changed the way consumers shopped as smartphones and internet connectivity became ubiquitous in the country.
For example, Tata group's online venture Tata Cliq has a small presence and offers a much more limited number of products than its bigger peers such as Flipkart and Amazon India.
Similarly, the Aditya Birla Group's foray into online business has failed to make a mark with the group shutting their online fashion apparel platform Abof within a few years, as losses expanded.
Others, however, highlight the profitability or the financial sustainability of the brick-and-mortar (offline) retail ventures of business groups such as Tata, Reliance Industries, Aditya Birla and Future Groups and scoff at their comparison with fast-growing but loss-making e-commerce ventures.
"Successful e-commerce ventures are built on burning billions of dollars of cash with little visibility of profitability on the horizon. In contrast, India's top business groups are financially conservative and largely invest in business ventures that could turn profitable a few years down the line," says G Chokkalingam, founder and MD, Equinomics Research & Advisory.
Experts also say that the country's top business groups prefer to retain the ownership of their new ventures, but the funding needs of e-commerce ventures require equity investment from a new set of investors (or shareholders) leading to a steady dilution in ownership.
India's top business groups are steadily expanding their cash-positive brick-and-mortar ventures even if the topline growth is lower than that of e-commerce companies.
India's top 10 offline retailers including Avenue Supermarts, Titan, Trent, Reliance Retail, Future Retail, Aditya Birla Retail and Shoppers Stop reported combined net profits of Rs 15.64 billion during FY17 on revenues of Rs 949 billion.
Of these, only three firms reported net losses in FY17 -- Aditya Birla Retail, Shoppers Stop and Future Consumer.
Most of the offline retail businesses of the big corporates are profitable and continue to grow especially in the fashion and lifestyle vertical though grocery businesses remain a laggard.
Reliance Industries, India's largest private sector company, invested heavily in its offline retail business -- setting up 3,837 stores across the nation -- selling everything from groceries, apparel to petro products, but has marginal presence in e-commerce.
However, for the year ending March 2018, Reliance Retail's offline business revenue doubled to Rs 691.9 billion over the previous year while revenue excluding petro and connectivity grew 37 per cent on a year-on-year basis.
Aditya Birla group's offline grocery business under Aditya Birla Retail (ABRL) made a loss of Rs 6.44 billion on revenues of Rs 41.9 billion in FY17. Aditya Birla Fashion, a listed entity, however is doing much better and posted net profit of Rs 0.54 billion on revenues of Rs 66.4 billion in FY17.
One of the biggest success stories in India's offline retail industry is Avenue Supermarts, the operator of DMart stores, which received a good response from stock investors as it focused on the mass market. Future Retail, which took over Bharti Retail's business, has also done well and reported a net profit of Rs 3.68 billion on net revenue of Rs 179.8 billion in FY17.
"Companies like ABRL will have to wait for an opportunity for foreign investors to come into the sector for a possible sale. The only risk is that by the time they sell it, value would have eroded," said an industry analyst.
The acquisition of five per cent stake for Rs 1.8 billion by Amazon in Shoppers Stop, a leading departmental store chain in India, is the best example of this strategy.
The way forward for Indian conglomerates will be to forge strategic tie-ups with online businesses, says Kishore Biyani, the original retail king of India.
"We are open to strategic alliances with online players. That is the way forward. Our relationship with Amazon is transactional, not strategic," said Biyani, chairman of Future Group.
The deal will not impact the physical (offline retail) players much, believe analysts.
"Despite the three large online players being now heavily funded, we do not expect online discounting to increase as Walmart's focus will be to drive the sale of its private labels," Abneesh Roy of Edelweiss said.
According to him, all large physical retailers are moving towards the omni-channel, including tie-ups with e-commerce players. Besides, organised retail constitutes only nine per cent of the overall retail pie in India creating enough room for all the players to grow.
Photograph: Vivek Prakash/Reuters.