In July-Sept 2016-2017, TCS had missed street expectations with 7.8% growth in revenue, reports Ayan Pramanik.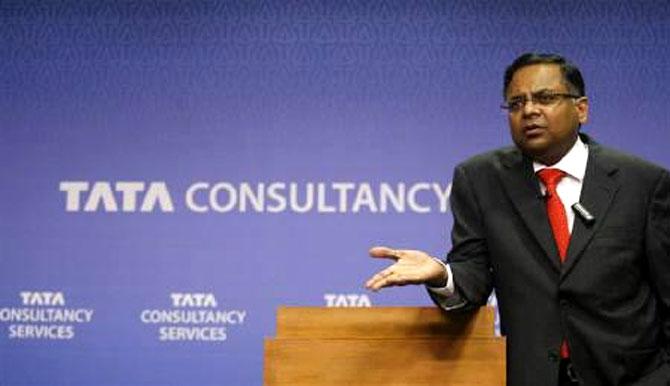 India's largest IT services firm Tata Consultancy Services (TCS) will kick off on January 12 the third quarter results for technology services companies, casting light on how the industry will face automation, the Donald Trump presidency and disruption in business models as clients go digital.
In July-September 2016-2017, TCS had missed street expectations with 7.8% growth in revenue at Rs 29,284 crore.
The operating margin, calculated as sales minus expenses, was 26%, which surprised analysts.
But the forecast was muted as Chief Executive Officer and Managing Director N Chandrasekaran had said the quarter was unusual and growth should rebound in third and fourth quarters.
In the third quarter, TCS saw a 0.3% sequential decline in revenue in dollar terms and 11.7% growth in rupee terms.
Analysts expect the technology major to post stable growth in rupee terms. In dollar terms, its revenue is likely to decline.
Lack of focus on growth in digital technology business delivery and a proposed minimum wage hike for H1B visa holders in the US are concerns for TCS in the third and fourth quarters.
Here are 5 key things one should watch out for in the TCS results and management commentary:
Outlook for the BFSI and retail verticals
The banking and financial services and retail verticals, which account for 54% of TCS' revenue, grew marginally in July-September owing to a delay in discretionary spending.
The company said there was a 'softness in BFSI' without providing much clarity.
Bhrugesh Parsawala, an analyst with ICICI Securities, wrote that the company may have seen a stabilisation in these verticals and discretionary spending may have resumed.
It will be important to look out for commentary on this. With the Brexit issue and disruptions by fintech start-ups, slow growth in BFSI has become a known issue and the company has to think of ways for improvement.
Digital strategy and acquisitions
TCS' digital strategy is largely to build capability, unlike peers Wipro, HCL Technologies and Infosys, which have looked at acquisitions and partnerships.
"One should look out for its positioning in the evolving digital landscape and growth outlook for digital practice," says Kawaljeet Saluja, research analyst with Kotak Institutional Equity.
IT services firms are witnessing growth from digital and cloud services, but the projects require programmers onsite unlike traditional services, which can be done offshore.
There is enormous pricing pressure on traditional services, where customers are cutting budgets.
Analysts say outcomes from organically developed verticals for emerging technology have not been effective.
Will Chandrasekaran remain TCS CEO?
There is speculation of Chandrasekaran being elevated as chairman of Tata Sons.
This development will be keenly watched, as also the Tata group's strategy for TCS, says Pareekh Jain of HfS Research.
Outlook for revenue from TCS Japan
Investors are gearing up to hear about growth from TCS' business in Japan, says Ashish Chopra of the brokerage firm Motilal Oswal.
Growth in different geographies will be crucial as IT services players are increasingly seeing a decline in traditional business and pricing pressure in markets like the US and Europe.
A major deal from India, which was deferred earlier, is expected to come back in the third quarter.
This should have a significant impact on business from markets other than Europe and the US.
Commentary on issues like H1-B visa norms
The TCS commentary on the US and the conversations with clients on proposed policies of President-elect Donald Trump will be critical.
Trump has said he will not let H1B visa-holders to replace US workers. A good share of H1B visa-holders in the US are employees of Indian IT services firms.
The Protect and Grow American Jobs Act has been submitted in the US Congress, seeking a hike in the minimum wage for H1B visa holders from $60,000 to $100,000.
This may potentially impact TCS' margin for the next quarter and 2017-2018.
One should watch out for the management commentary on measures to offset this impact, says Saluja of Kotak.
IMAGE: TCS Chief Executive Officer and Managing Director N Chandrasekaran.