In February 2013, the airline under the then chairman Rohit Nandan decided to shift its base to New Delhi.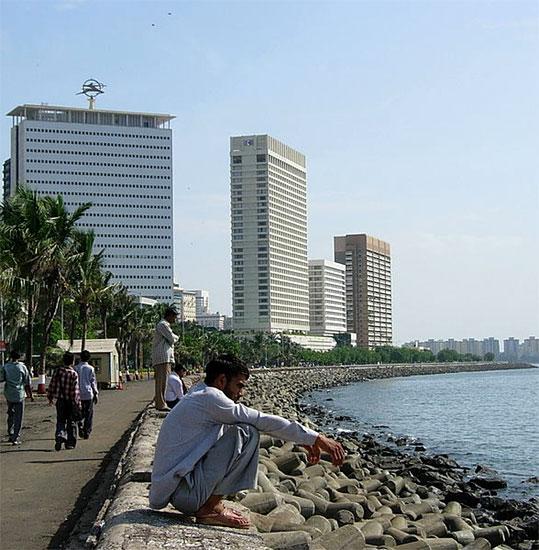 Image: Air India Building at Nariman Point, Mumbai. Photographs: Courtesy, Abhi Madhani/Wikimedia Commons
The cash-starved national carrier, Air India, has finally succeeded in monetising its earlier headquarters - the 23-storey Air India Towers - in the heart of Mumbai with just one floor being empty now. The airline can earn a rental income of Rs 100 crore (Rs 1 billion).
Most floors of the sea-facing 344 feet tall, centrally air-conditioned building measuring 2,20,000 sq ft on the historic Marine Drive in the Nariman Point area built in 1974, had been lying vacant for many years even when the flag carrier was headquartered in the building.
In February 2013, the airline under the then chairman Rohit Nandan decided to shift its base to New Delhi.
The irony is that neck-deep in debt, the airline with over Rs 30,000 crore (Rs 300 billion) long-term aircraft purchase loans and over Rs 30,000 crore in accumulated losses, has been spending close to Rs 90 crore (Rs 900 million) a year to upkeep the tower.
"We are left with just one vacant floor now. We have already rented out 8 floors to the Income Tax department, and 4 floors each to State Bank of India and the Service Tax department. We are talking to SBI for the remaining floor and hope to conclude this as well," Air India general manager for finance Kirti Rao told PTI.
Each of these floors have a carpet area of around 10,000 sq ft and at average price of Rs 350 per sq ft, the tower is worth around Rs 900 crore (Rs 9 billion). The company ruled out selling the building, but only renting it.
Rao said with this the airline has just two floors with them in the tower. The rest of the floors are occupied by TCS, Director General of Shipping and Bharatiya Mahila Bank, which has half of the ground floor. TCS has been the oldest tenant on the building.
The Air India Tower had the country's first escalator used in the ticket booking area, an underground two-layer parking facility, high speed elevators and fire-fighting equipment.
Each floor had a lease price of Rs 2.50 per sq ft. The asset monetisation plan was part of the January 2012 bailout of the airline under which it would be infused with over Rs 33,000 crore (Rs 330 billion) of taxpayers' money.
As per the turnaround targets, AI is required to rent, sell or re-develop its properties to gather revenues of Rs 5,000 crore in the next 10 years. This includes 106 properties across the country, as well three in Tokyo and London.
AI also has land parcels in Hong Kong, Nairobi, Mauritius, Mumbai, New Delhi, Gurgaon, Chennai, Kolkata and Coimbatore, most of which are yet to be sold or leased.
Rao also said that the airline also concluded the sale of four of its posh apartments on the Peddar Road in south Mumbai to SBI for Rs 88 crore. The new owner is yet to take possession of the flats, he added.
When asked about the rentals of these floors, Rao said it varies from Rs 300 to 450 a square feet. On the rental income side, he said it should cross Rs 100 crore now.
Meanwhile, chairman and managing director Ashwani Lohani, who was roped-in six months ago to turn around the airline, expressed confidence to meet the March 2019 deadline, saying "we are well on track".
Whether the airline will be able to report standalone profit in FY16 on the back of the massive drop in fuel bills, he said "unlikely", but refused to offer any reason.
"We'll surely be Editda positive this year. But I am not sure of reporting profit for the full fiscal this year," Lohani said, adding that the airline has not paid back any of its working capital loans this year so far.
Strangely, all the domestic airlines have been reporting record profits this year, boosted by cheap oil, which fell more than 70 per cent since June 2014.
Lohani also parried a question on the revenue growth so far in the current fiscal year.
Whether the airline will be able to conclude any more real estate monetisation plan this fiscal, Lohani answered in the negative without offering any specific reasons.
Lohani was in Mumbai to open a new ticketing counter at the AI Towers on Wednesday.
When asked why AI, which is sitting on a debt of over Rs 30,000 crore in air-craft purchase loans alone, is wasting money on refurbishing physical booking counters, he said booking counters will always remain though the future of booking is in the online space.
He said already 18-20 per cent bookings are done through the official website and the rest is through a mix of physical as well as online travel portals and agents. Refusing to offer a break-up of physical bookings, he said around Rs 60 crore (Rs 600 million) worth bookings are done manually every month.