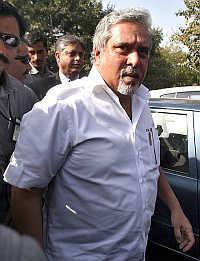 Foreign institutional investors offloaded 10.64 per cent stake in Vijay Mallya's key company United Breweries Holdings Ltd, ahead of the Diageo-United Spirits deal.
According to a revised shareholding pattern filed by UBHL, in just over a month, three FIIs - Platinum Investment Management, Colonial First State Investment Managers and Acacia Banyan Partners - sold 10.64 per cent stake in UBHL.
The revision came after an earlier September quarter filing by UBHL in which three of its promoter group companies - Mallya Pvt Ltd, Kamsco Industries and Gem Investment and Trading - had together sold 8.41 per cent stake in UBHL.
While the company has not given the reasons for the earlier error in disclosure, the revised shareholding on November 9 shows that the promoter holding increased 7.18 per cent - from 43.09 per cent in September to 50.27 per cent in November.
In June, promoter holding in UBHL stood at 51.5 per cent. In effect, the promoter holding in UBHL is down only 1.23 per cent from June.
After the September quarter shareholding filing, the Securities and Exchange Board of India (Sebi) had asked the UB Group chairman Mallya and UBHL to submit information on the drop in 8.41 per cent holding in UBHL.
According to Sebi's Takeover Regulations and Prohibition of Insider Trading Regulations, promoters have to disclose within two working days to the regulator
and exchanges about any change in shareholding pattern, if they are involved in buying or selling of shares.
Another interesting fact that emerges from UBHL's latest filing is that Mallya Pvt Ltd, Pharma Trading Company and Kamsco Industries have pledged 7.75 per cent of their shares.
According to legal experts, such errors attract a penalty as it causes loss to shareholders. UBHL is the holding company for Mallya's United Spirits apart from Kingfisher Airlines and is the key beneficiary of the Diageo deal.
UBHL holds 18.03 per cent in USL. In September, Platinum Investment, which manages more than Australian dollar $14 billion in New Zealand, Europe, the America and Asia, held 10.19 per cent stake in UBHL.
But a revised filing by UBHL in November shows that Platinum has sold its entire stake in the company and currently holds no share or less than 1 per cent stake in the company.
Similarly, Colonial First State Investment, another Australian fund manager, and Acacia Banyan that held 1.10 per cent and 1.51 per cent stake, respectively, in UBHL in September.
The share price of UBHL saw almost a three-fold rise from a 52-week low of Rs 53 in June to Rs 155 in September, on the Bombay Stock Exchange.
The counter saw sharp rise and fall in the past few months on the back of rumors, which were later confirmed by the company, on the Diageo-USL deal.
UBHL was locked in a lower circuit of five per cent on Monday at Rs 129.