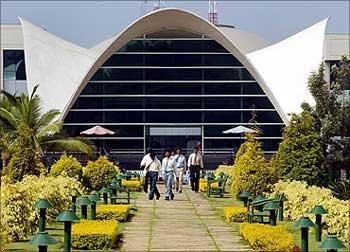 Foreign institutional investors (FIIs)' stake in Infosys is nearing historic highs. During the quarter ended September, they bought 6.38 million Infosys shares for Rs 2,236 crore, raising their stake 1.1 per cent, data show.
The number of FIIs holding stake in the company has risen from 912 at the end of June to 926 at the end of September. As of September-end 2013, 808 FIIs held stake in the company; the number stood at 778 a year earlier.
Recently, the stock hit a lifetime high. Also, the company announced 1:1 bonus shares to shareholders, including those holding American depository receipts, after a gap of eight years.
Life Insurance Corporation of India has increased its stake in Infosys from 3.82 per cent at the end of June to 4.45 per cent in September, acquiring 3.62 million shares (0.63 per cent stake) for Rs 1,270 crore.

Retail investors, however, booked profits on every rise, with their holding in the company nearing a decadal low. Individual investors' stake declined from 9.32 per cent in June to 9.06 per cent in September.
Stock upgrades
After the company announced its earnings for the September quarter, most brokerage houses tracking the stock upgraded it and increased the target price.

"We remain overweight on Infosys, though the stock is approaching our target price. Currently, it is trading at a six-seven per cent premium to MSCI India which, we believe, is still attractive. We'd like to assess the new management's strategy before making an early reassessment," JPMorgan analysts said in a report.
HDFC Securities believes Infosys could see a turnaround under the new chief executive. They expect new initiatives to boost employee productivity and stabilise margins, saying increased investments in products and platforms could provide non-linear growth opportunities. They maintain a 'buy' rating on the stock, with a target price of Rs 4,265.
"We start valuing Infosys on FY17 earnings, as new management's strategic efforts are expected to manifest largely by then.

As we estimate the company to deliver 15 per cent compounded annual growth in earnings over FY14-17, we derive our 9-12 month price target of Rs 4,150 based on 14times the FY17 price/earnings ratio. With scope for limited appreciation in the near term, we retain an 'accumulate' rating on the stock," said an IIFL report.