Experts say a turnaround may happen after the general elections

Stocks with high foreign holding have fallen more than Sensex stocks in the period since the US central bank announced the tapering of its easy money policy. The US Federal Reserve announced on December 18 that it would cut down on its then $85 billion-a-month monetary stimulus. It reduced the stimulus by $10 billion in the first instance, and announced a further $10-billion reduction on January 29.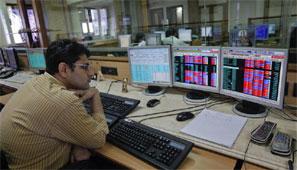 The 30 stocks that make up the BSE's Sensex, an index whose movements are seen to be representative of the health of the market, have given average returns of -3.71 per cent since then. Meanwhile, the top 30 stocks in terms of FII holding amongst the BSE-500 stocks have given average returns of -6.61 per cent.

Raamdeo Agrawal, joint managing director at Motilal Oswal Financial Services, said further selling might weigh on such stocks in the days ahead.

"Foreign institutional investors have only begun to sell in the last five or six days. If it continues then the stocks with high foreign holding will remain muted," he said.

Gautam Trivedi, managing director and head of equities, Religare Capital Markets, said India had drawn a large quantum of investor interest in recent times, but any sustained
reversal could have an adverse impact on returns in the absence of domestic liquidity to absorb the selling.
"Indian markets received the highest foreign inflows in the Asian market after Japan during 2013. India is very well regarded amongst the markets in the region. But there is a lack of buying support for any sustained selling. There is no incremental buying from domestic players, whether they are institutions or retail investors," he said.
Foreign institutional investors were net buyers by Rs 1.13 lakh crore during 2013, one of the highest years on record, according to data from the Securities and Exchange Board of India. They have been net sellers in seven of the last nine sessions and have net sold Rs 1,225.70 crore in 2014 so far. Meanwhile, domestic institutional investors have bought barely over a tenth of the same, according to Sebi data, which places their net buying at Rs 154 crore.
Stocks which have underperformed include IDFC, which has fallen 12.42 per cent, YES Bank, down 18.95 per cent, and Jubilant Foodworks, down 18.74 per cent.
J Venkatesan, fund manager at Sundaram Mutual Fund, said inflows would likely come in only in the latter part of 2014. "The flows would depend on the electoral outcome. India saw a disproportionate allocation last year. This year, people are watching the elections and any inflows are only likely to come in the second half of the year," he said.