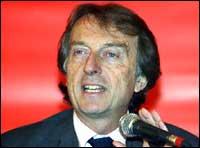 Ferrari president Luca Cordero di Montezemolo has been appointed the new chairman of the Italian major Fiat following the death of Umberto Agnelli last week.
The Fiat board is hoping that di Montezemolo would be able to work his magic to help revive the flagging fortunes of the loss-making Turin-based car major, just like he has done for the Ferrari luxury sports car division.
However, no sooner was di Montezemolo appointed chairman of Fiat than the company's chief executive Giuseppe Morchio resigned from his post, protesting against the new appointment and other promotions made to the board.
Auto analysts had seen Morchio as the next Fiat chief.
Promoting di Montezemolo from Ferrari is being seen as a sign that the Agnellis, who own 30 per cent of Fiat, are still committed to the carmaker their ancestor founded 105 years ago but which has recently slumped into crisis, said a Scotsman.com report.